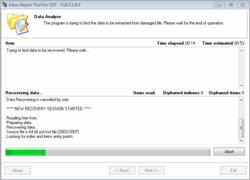 Use couponc code XMAS85 during purchase to participate in our offer of 85% discount.
Sacramento, CA (PRWEB) December 17, 2012
.OST files are Offline Storage Tables, which are used widely by Microsoft email and instant messaging clients for ensuring the offline availability of files which are stored on your local computer (as opposed to the server). When an .OST file becomes damaged or corrupted, then Microsoft Outlook will typically be unable to open or utilize them and the email and data is lost to the business and user.
Good news!
Inbox Repair Tool for OST is a powerful repair and recovery toolkit which delivers state-of-the-art functionality, managed by an extremely simple and automated process to guide users through to full restoration of their emails and data.
.OST files are commonly used to store not only emails but also the associated objects, such as calendars, contacts, notes, tasks and much, much more. When an .OST file is damaged or corrupted, users need a solution which can be quickly deployed to recover the data and email. That solution is Inbox Repair Tool for OST.
Inbox Repair Tool for OST downloads in seconds and is a fast and simple install with full installation and after-sales support provided. Once installed, Inbox Repair Tool for OST delivers a powerful tool set which will:

Provide for fast and simple .OST email migration to Microsoft Outlook while maintaining folder structure and the integrity of file attachments, replication of calendars, notes, tasks, contacts and other email objects;
Provide a .OST viewing tool which allows for the inspection of .OST files without the need for Outlook itself;
Fast and stable conversion of .OST file archives to .PST file formats;
.OST file recovery to .PST file formats; and
Is managed by an automated series of simple wizards to guide you through the email process you wish to apply to your email archives.
Inbox Repair Tool for OST will handle email file sizes in excess of 4GB and will manage password protected emails too. Inbox Repair Tool for OST is also compatible with Microsoft Outlook .OST files for versions Outlook 97 thru' to Outlook 2010 (32-bit).
Official site http://www.outlook-pst.com/
Product page http://www.outlook-pst.com/inbox-repair-tool-for-ost/