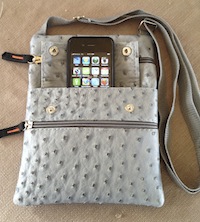 Even the 'I DON'T LIKE CHANGE LADIES' are addicted. IT'S GREAT!! The time saved with separate compartments is wonderful. Thank you again!!
Miami, FL (PRWEB) June 13, 2013
Nifty-Nifty.com, the leading online retailer of nifty, innovative products as seen on TV, is excited to announce the nationwide launch of their newest product, the all new Ostrich Cross Body Cell Phone Purse. Many have wondered how to carry only their cell phone, credit cards, ID and money, in an organized way, and still look trendy. Nifty-Nifty.com has the answer - Ostrich Cross Body Cell Phone Purse. This Cross Body Cell Phone Purse has it all and it's compact and trendy. Ostrich Cross Body Cell Phone Purse is now available to shoppers in USA and Canada with zero shipping costs and to shoppers in New Zealand, France, Israel, Mexico, Spain, Italy, France, Chili, Brazil and elsewhere internationally - just about anywhere, with a low shipping cost of just $5.00.
"We have sold innovative, trendy products for quite some time," explained Wendy Miller, co-owner of Nifty-Nifty.com.  "We are excited that we are one of the very few online retailers to sell the Ostrich Cross Body Cell Phone Purse with zero shipping costs to our Canadian customers. Our Canada shipping program has been so successful we are extending it!"
For more information on the Ostrich Cross Body Cell Phone Purse, go to:

About Ostrich Cross Body Cell Phone Purse
Ostrich CrossBody Cell Phone Purse is darling - casual yet elegant, featuring the highly sought after ostrich look. This simulated Ostrich leather cross body purse is supple, soft and durable and has an adjustable across your body strap. Everything seems to be crowded these days - airports, flights, life, but that doesn't mean your purse should be crowded.  This Ostrich Cell Phone purse gives so much more and prevents crowding with two front and one back zippered compartment - all separate pockets - and a front flap snap pocket.  The consumer's passport, wallet, cell phone, small camera, sunglasses, keys, lip gloss fit comfortably, in separate compartments. This soft and supple ostrich cross body purse takes the stress out of trying to keep up with personal belongings, leaving the consumer hands free to deal with everything else. No need to juggle keys, phone and a credit card sized purse, trying to stay chic on the go - this soft cross body cell phone purse provides an easy solution without sacrificing style. This travel friendly handbag can be worn cross body, or the strap can be doubled up and worn as a compact shoulder bag. Inspired by Marc Jacobs, Burberry, DKNY, Gucci - Ostrich CrossBody Cell Phone Purse measures approximately 6.5 inches across and 8.25 inches in length. AND it is easy to clean - just wipe it down.  Remember that all our products have FREE SHIPPING in the USA AND CANADA and International Shipping is only a flat rate of $5.00.  Ostrich Cross Body Purse coupons or coupon codes are not necessary - zero shipping in the USA and CANADA every time.
About Nifty-Nifty.com
Nifty-Nifty.com is the world's leading online retailer of innovative, nifty products. The company specializes in online retailing of products such as the Readerest, Phubby, Cross Body Cell Phone Purses, Hip Klips, Circles Luxury Cell Phone Wallets, Ostrich Cross Body Cell Phone Purse and other innovative online products at the best prices with no charge shipping in the USA and Canada.
http://www.Nifty-nifty.com
Tel. 858-248-2302