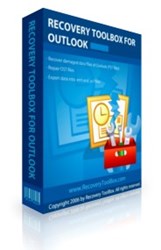 is a powerful piece of software that facilitates the recovery of data from damaged PST files and the conversion of OST data to the PST format
Alexandria, VA (PRWEB) October 15, 2012
In an ongoing effort to update the existing line of products and meet the growing needs of its current and prospective customers, Recovery Toolbox released an updated version of Recovery Toolbox for Outlook, a tool that efficiently combines the functionality of a recovery solution and a fast OST to PST converter.
The program helps users solve a typical problem of converting an OST file to a PST storage (read the full procedure description) file that can be copied to another system and mounted in Outlook. This task cannot be completed using standard tools and that's exactly the kind of situation that Recovery Toolbox for Outlook was designed to help in.
"Our research showed that Recovery Toolbox for Outlook is the only OST to PST converter with so much additional power and features," explains Victor Bobrov, a senior developer in the Recovery Toolbox for Outlook team. "The program flawlessly handles a number of PST-related tasks, OST to PST conversion being just one of them."
Recovery Toolbox for Outlook can be used for converting undamaged OST files and recovery of data from damaged OST files with simultaneous conversion to the PST format. Thanks to the program's simple and self-explanatory interface, the conversion process takes just a few clicks and does not require any special knowledge or skills that an average user may not have.
About Recovery Toolbox
Founded in 2003, Recovery Toolbox is currently the leading provider of data recovery tools for a broad range of programs. The growing portfolio of Recovery Toolbox consists of over 30 award-winning solutions intended primarily for mainstream applications used by millions of people worldwide. The company is committed to creating intuitive and user-friendly tools that help regular users solve complex data recovery and migration problems on their own.
The demo version of Recovery Toolbox for Outlook has some functional limitations and is available for download from the official Recovery Toolbox website.
Software Home: http://www.recoverytoolbox.com
OST to PST Converter page: http://www.recoverytoolbox.com/osttopst.html