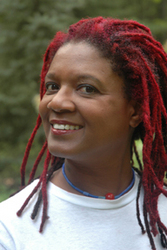 Sister Cities Project, Asheville, NC/Osogbo, Nigeria.
Asheville, North Carolina (PRWEB) December 5, 2007
OsunPriestess.com -- a resource for individuals committed to African studies and tourists interested in the living indigenous culture of Nigeria -- announces its recent launch. Bridging the cultural and racial divide is the mission of the site's founder, Yeye Osunyemi, aka, Valeria Watson-Doost. The Web site's motto is "Come curious about Orisa and leave with a practical path to African spirituality."
"An essential part of healing the post traumatic stress syndrome of slavery requires that we, black and white, honor our African roots," Osunyemi says. "That's what OsunPriestess.com is all about -- healing."
Visitors to OsunPriestess.com can find information on the African Diaspora, traveling to Nigeria, traditional festivals, spiritual services and resources, and even an introduction to what equipment is needed to video personal cultural documentaries. The site also provides information on Orisa, initiation and the Osun Grove, a UNESCO World Heritage site.
"Priestess of Osun; My Practice," now available on Amazon.com, is Osunyemi's first commercially released DVD, giving an over-the-shoulder look at her spiritual practice. The DVD is a "quick start" for discovery on the traditional path of Orisa and Ifa, making African spirituality intelligible to the average person. Included with the 94-minute DVD is a 40-page companion booklet, "Changing our World through Prayer, Meditation an Affirmation."
"We have to document our truth to counteract the historical distortions of the commercial media," Osunyemi says.
Osunyemi's spiritual journey began as a southern Baptist, found sustenance in the New Age movement, deepened with Zen Buddhism and has now fused with the mystical tradition of her African ancestors.
First initiated in 2001 as a priestess of the Yoruba deity Osun, Osunyemi has continued her studies under several traditional priests known as Babalawos (fathers of wisdom). In 2006 she joined HATTAF International, lead by Chief Ifagbenusola Atanda, the Asiwaju Awo Agbaye. Chief Atanda's title means he is the leader of all of the traditional priests in the world. That same year, accompanied by her husband Rainer Doost, Osunyemi traveled to the sacred city of Osogbo, Nigeria to be initiated in the traditional way of the Yoruba, bathed in the Osun River and walked in procession with the Arugba (virgin calabash carrier) in the world-renowned Osun festival.
As a guest of Chief Atanda, Doost was able to film from an insider perspective, obtaining footage never seen before. This journey is documented in three DVDs: "Priestess of Osun; My Nigerian Initiation," "Chief Atanda on Ancestor Veneration" and "Sister Cities Project, Asheville, NC/Osogbo, Nigeria."
Osunyemi regularly adds new information to her blog. Visitors can post inquiries and receive updates through the OsunPriestess.com RSS feed. Osunyemi answers questions about spiritual practice and Rainer answers questions about video production. In the summer of 2008, the couple will escort two groups to Osogbo, Nigeria. One will be the Sister City Committee from Asheville, North Carolina, and the other will be individuals seeking initiation to Ifa and Orisa. Expect to see new fascinating documentaries.
"Priestess of Osun My Practice" is available at Amazon.com. For additional information or for a review copy of "Priestess of Osun My Practice," contact Rainer Doost or visit http://www.osunpriestess.com. Yeye Siju Osunyemi is also available for speaking engagements.
About Zamani Productions:
Zamani means "Heal the Past in the Present and Empower the Future." Zamani Refuge is an educational 501(c)3 dedicated to help heal the profound after effects of the transatlantic slave trade.
Wholesale Ordering:
ASIN: B000MEYJMO Run Time: 94 minutes
Priestess of Osun my Practice
Priestess of Osun; My Nigerian Initiation
Chief Atanda on Ancestor Veneration
Sister Cities Project, Asheville, NC/Osogbo, Nigeria
Available at:
Zamani Productions
58 E. Wonder Road
Leicester, N.C. 28748
http://www.osunpriestess.com/marketplace.html
828-515-0740
Contact:
Rainer Doost
Zamani Productions
http://www.osunpriestess.com/marketplace.html
828-515-0740
###