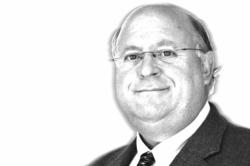 "The world has an ever-increasing demand for potable water, and Bill Buchan will be an integral team member in helping Ocean Thermal Energy Corporation to meet that global demand with OTEC."
– OTE Chairman and CEO Jeremy P. Feakins
Lancaster, Pennsylvania, USA (PRWEB) December 13, 2012
William M. "Bill" Buchan, Esq., former President of Water & Energy, Inc. has been appointed to the Ocean Thermal Energy Corporation (OTE) Executive Team as Senior Vice President of Water and Environmental Resources. Mr. Buchan has served in numerous executive positions for more than 20 years, which time has been marked by his steadfast passion for promoting water sustainability globally. Over the course of his impressive career, he has had the extraordinary opportunity to work on some of the largest and most significant water issues facing the world today such as protecting New York City's watershed from sewage pollution, building the largest seawater desalination facility in the United States, recycling wastewater to provide new means of agriculture in the Canary Islands of Spain and recently providing a drought-proof water supply for India's newest city by recycling 240 million liters per day of wastewater.
Mr. Buchan combines a strong technical background, expertise in business and law with thirty years of diverse experience in water-related industries. He is an accomplished entrepreneur having established numerous businesses in the USA, Europe and Asia. Mr. Buchan has developed businesses focused on the water industry from obtaining intellectual property protection through the full cycle of financing, team building, manufacturing, marketing, sales, and project delivery worldwide. His leadership skills at Water & Energy, Inc. are reflected in the company's engagement in international projects for the development of water, energy, wastewater and recycling projects, including the current joint venture partnership with ReNew2O, Ltd. based in Mumbai, India to provide wastewater recycling technologies to the Asian markets. Mr. Buchan also served as founder and President of Operations & Maintenance, Inc. (OMI), with expertise operating a wide variety of potable water and wastewater treatment systems as well as providing renewable energy technologies to the water and wastewater markets. OMI clients included numerous Fortune 500 companies and governmental entities. Mr. Buchan also served with distinction as President of Ensource, Inc., an environmental consulting firm founded by Mr. Buchan in 1996 to provide technical and financial solutions for sophisticated environmental and infrastructure projects. In that capacity, he has consulted on a wide variety of major projects including developing alternative plans to abate the sewage pollution of Onondaga Lake, New York. This half billion-dollar plan used a design, build, operate (DBO) structure to manage the risk of this massive public works infrastructure project at a fixed price with private labor.
Based in Syracuse, New York, Mr. Buchan will impart his extensive expertise in global water and energy issues to OTE as the company continues its rapid globalization of Ocean Thermal Energy Conversion (OTEC) with associated potable water production. "I am delighted to be part of the OTE team as it continues on its successful path of bringing fresh water and renewable energy to many needy places around the world," said Mr. Buchan. Jeremy P. Feakins, OTE Chairman and Chief Executive Officer, added: "Here at OTE, the entire team is excited to have Bill's global water expertise as another vital resource for our company. The world has an ever-increasing demand for potable water, and Bill Buchan will be an integral team member in helping Ocean Thermal Energy Corporation to meet that global demand with OTEC."
Demonstrated to be technically feasible in the 1990s at the National Energy Laboratory of Hawaii Authority (NELHA), Ocean Thermal Energy Conversion (OTEC) uses the natural temperature gradient of the world's tropical oceans to produce clean base-load (24/7) electricity, without the use of fossil fuels. Though proven 20 years ago, OTEC has not been ripe for commercialization until recently. Now, however, three factors have coalesced to provide appropriate market conditions. First, sustained high oil prices have made OTEC electricity pricing increasingly competitive, particularly in many remote tropical island communities where transportation costs to import oil are extremely high. Second, technical advances in the offshore oil industry in the last two decades, many of which are applicable to deep cold water pipe technology for OTEC, have resulted in greatly reduced capital costs for construction of OTEC plants. Third, as awareness of global warming has increased substantially, many governments have adopted aggressive renewable energy goals, making OTEC more desirable and competitive. The attractiveness of base-load (24/7) OTEC electricity is further enhanced when contrasted with intermittent renewable energy alternatives such as wind and solar.
OTEC has additional important advantages including the production of limitless, clean, fresh drinking water. A 10-megawatt plant could produce millions of gallons of potable water per day from nutrient-rich, pathogen-free ocean water. OTEC also provides sustainable aquaculture and mariculture opportunities to farm a number of cold-water species of seafood. In addition to developing OTEC plants, Ocean Thermal Energy Corporation also develops Seawater District Cooling (SDC) facilities, using deep cold water to air condition large structures, saving its customers up to 90% electricity usage when compared to conventional air conditioning.
Based on its proprietary knowledge and plant designs, Ocean Thermal Energy Corporation offers a range of innovative products and services, as described above. With offices in Pennsylvania, Virginia, Hawaii and The Bahamas, The Company, tracing its roots to 1988, has a multidisciplinary team of experienced corporate executives, scientists and ocean engineers, together with strong strategic corporate alliances, enabling it to provide solutions to address today's toughest energy, resource and environmental problems.
Further information: Ocean Thermal Energy Corporation: James Greenberg, Director and Chief Strategy Officer at jim(at)otecorporation(dot)com or call +1 717.299.1344
Media inquiries: Pictures of William Buchan, OTE management and diagrams of the OTEC process are available. Please contact Sara Paine at sara(at)otecorporation(dot)com or call +1 717.299.1344
Notes to Editors: Ocean Thermal Energy Corporation (OTE) is an international renewable energy and resource company using ocean thermal energy conversion (OTEC) to develop land-based power plants for the production of low-cost clean electricity and potable water.