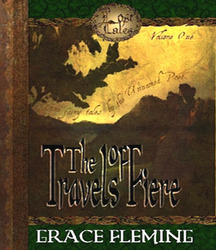 The Lost Tales of Faerphilly
Waxhaw, NC (PRWEB) August 15, 2007
Sometimes even heroes get lost, and like a fitful dragon over an endless sea, they lose all hope of finding ground again.... that is, according to the Unnamed Poet in Grace Fleming's new novel, The Travels of Fiere (pronounced: The Travels of "Fear"), a fantasy adventure that begins as a fairy tale and grows into a sprawling and thoughtful legend.
The story concerns the lost world of Faerphilly, wherein a half-nymph, Fiere of the Black Blade, goes on a quest of self-discovery and ends up entangled in the stories of princes, prophecies, and a beast at the end of the world. Christian themes, Celtic mythologies, and modern devices converge as Faerphilly goes through its greatest change in history.
When Miss Fleming first began The Travels of Fiere, she did not realize that at the young age of twenty-four she would be on her own journey into the intimidating world of the fantasy book market. "I'd read fantasy literature of all sorts, modern and classic," said Fleming. "But nothing inspired me quite like those time-sculpted folk tales, which changed shape and meaning in the mouths of storytellers. Their beauty was in their simplicity, and I wanted to capture a piece of that beauty in The Travels of Fiere. It's a risky adventure to tell what is, at its core, a modern story using an ancient style, but, as Fiere would say, 'We must not be idle for the sake of fear.'"
The Travels of Fiere is the first installment of "The Lost Tales of Faerphilly". It is a publication of Otherland Books and distributed by Lulu.com. It can currently be purchased through most popular online retailers, including Amazon.com. ISBN: 978-0-6151-4638-6
Find out more at http://www.myspace.com/faerphilly.
About the Author:
Grace Fleming currently lives in North Carolina. She graduated from the North Carolina School of the Arts in 2006, where she received a B.F.A. in filmmaking. This is her first published novel.
Contact: admin @ otherlandbooks.com
URL: http://www.otherlandbooks.com
###