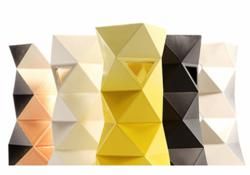 Chris' body of work is a testament to his talent, hard work, and dedication to material-driven design.
Los Angeles, CA (PRWEB) May 31, 2013
Christopher Basil Fong from Honolulu, HI, an Otis College of Art and Design senior majoring in Product Design, has been named a 2013 Windgate Fellow by The Center for Craft, Creativity & Design, a Center of the University of North Carolina, Asheville.
The $15,000 Windgate Fellowship Award is among the largest and most prestigious offered nationally to graduating seniors. One of only ten recipients in a field of 115 nominees from 68 institutions, Christopher won in the mixed media/product design category for outstanding achievement in handmade objects in fiber, metal, wood, clay, glass, and 3-D technology.
Otis faculty member and internationally acclaimed ceramist Joan Takayama-Ogawa served as Christopher's mentor for the Windgate competition. "Chris' body of work is a testament to his talent, hard work, and dedication to material-driven design," Takayama-Ogawa observed. "I couldn't be more proud of his achievement and the exceptional way in which he represented Otis in the College's first year of participation in this competition."
As part of his fellowship, Christopher will enroll in workshops at the Domaine de Boisbuchet in southern France to study with the Vienna-based design collective Mischer'Traxler. He will then research graduate schools in France, England, and the Netherlands before completing his fellowship by taking wood and blacksmithing courses at Penland School of Crafts in North Carolina.
Upon learning that he had been named a 2013 Windgate Fellow, Christopher expressed gratitude to his faculty mentor Takayama-Ogawa, Product Design Chair Steve McAdam, and the Product Design faculty "for creating a fertile environment" in which he could grow as a designer.
"I feel very humbled to receive this award," Christopher commented, "and I hope my winning it opens new doors and opportunities for future Otis students to compete for fellowships that will kick start their careers. I hope this fellowship will kick start mine."
Christopher is an alumnus of the Iolani School on the island of Oahu in Hawaii and will graduate from Otis this spring.
INFO ON THE WINDGATE FELLOWSHIP
http://www.craftcreativitydesign.org/2011-windgate-fellowship-awards/
CHRISTOPHER FONG WEBSITE AND VIDEO
http://chrisbasilfong.4ormat.com
MISCHER'TRAXLER
http://www.mischertraxler.com
ABOUT OTIS COLLEGE OF ART AND DESIGN
Founded in Los Angeles in 1918, Otis College of Art and Design prepares diverse students of art and design to enrich the world through their creativity, their skill, and their vision. The College offers an interdisciplinary education for 1200 full-time students, awarding BFA degrees in Advertising, Architecture/Landscape/Interiors, Digital Media, Fashion Design, Illustration, Graphic Design, Product Design, Painting, Photography, Sculpture/New Genres, and Toy Design; and MFA degrees in Fine Arts, Graphic Design, Public Practice, and Writing. Continuing Education offers certificate programs as well as personal and professional development courses. Additional information is available at http://www.otis.edu.