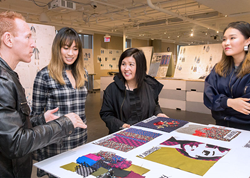 Los Angeles, CA (PRWEB) June 16, 2017
Students in the fashion design program at Otis College of Art and Design are front and center in the first season of Disney Design Challenge, a new series for Disney Style. In this challenge, student designers are asked to create clothing lines inspired by Disney's Frozen in the distinctive fashion styles of Los Angeles. The series, which was recently featured on TeenVogue.com, is presented by Disney Consumer Products and Interactive Media.
The top three designers in the challenge will debut their final looks at the D23 Expo in a special live episode on July 14. The winners will have their work produced by online retailer Nineteenth Amendment and will receive scholarships towards their final year at Otis College.
Students in the fashion design program at Otis College of Art and Design become educated and practiced in all aspects of the design process as they work towards a Bachelor of Fine Arts (BFA) in Fashion Design. Each year, students are paired with industry mentors that guide them through the design process of one-of-a-kind garments in couture, sportswear, swim, active wear, costume, and more. Learn more about the program by visiting otis.edu/fashion-design.
ABOUT OTIS COLLEGE OF ART AND DESIGN
Established in 1918, Otis College of Art and Design offers undergraduate and graduate degrees in a wide variety of visual and applied arts, media, and design. Core programs in liberal arts, business practices, and community-driven projects support the College's mission to prepare diverse students to enrich the world through their creativity, skill, and vision.