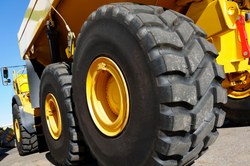 sizes for cranes, graders and loaders up to 57
Hong Kong (Vocus) October 25, 2010
Xtreme OTR Tire Company, Ltd. (XOTC), a fast growing tire manufacturer for the Off-The-Road (OTR) tire market, just announced a new line of OTR tires sold under the XTREME LOAD USA brand. The company's U.S. based engineering staff, which has over 450 years of tire engineering experience with the big three tire manufacturers, has developed this new line of world class radial OTR tires. The new tire line meets the most stringent specifications for off-the-road heavy equipment operations in the mining and construction industries. XTREME LOAD USA radial OTR tires start at 20" sizes for cranes, graders and loaders up to 57" with 63" models scheduled for production in 2011. The company provides customers with an OTR tire field service support program and a limited OTR tire warranty to ensure they get the most from their tire investments. The company also announced that Xtreme OTR Tires (XOT), LLC, is the official agent in the U.S.A. for Xtreme OTR Tire Company, Limited based in Hong Kong.
For unique situations, the XOTC tire engineering staff can specify custom tire compounds for customers to manufacture tires that are designed for specific off-the-road environments, from good underfoot conditions on maintained roads to the poor footing conditions of quarries and underground mines. Whether a customer needs a tire that is heat resistant for high speed or long haul work or a tire that is cut resistant for short and slow operating conditions or any tire in between, XOTC can make a custom tire to fit their needs. XOTC's unique manufacturing capability ensures that their customers have tires manufactured for their specific needs to deliver outstanding performance and long life at extremely competitive pricing. The company's on-site tire service and diagnostics (temperature and haul profile analysis) of tire performance enables XOTC to improve tire performance for their customers and refine future OTR tire designs.
To support the new company XOTC has developed a new website that enables customers to find information and specifications on the XTREME LOAD USA OTR tires and the XTREME LOAD OTR tyre lines. The website has interactive catalog that allows customers to search for OTR tires by size, tread pattern and vehicle.
Ray Huffman, CEO of Xtreme OTR Tire Company, Ltd. commented on the company's manufacturing capabilities and product lines. "We want our customers to be able to purchase the highest quality radial OTR tires they need from our XTREME LOAD USA product line. Our American OTR Tire Engineering team is very experienced in all areas of design and compounding for OTR radial products. To ensure they can get the OTR tires they need our OTR tires are available in numerous plies and sizes to fit any load or environment. Our OTR tire manufacturing capability enables us to fulfill large OTR orders and with our custom compounding capability we can deliver tires to meet our customer's needs. Our new website will make it easy for our customers to find the OTR tyre they need for their job site. If they can't find what they need we can make them a tire with custom compounds to meet their particular job site needs."
Xtreme OTR Tire Company, Limited is located in Hong Kong, Peoples Republic of China and can be contacted via their website and Xtreme OTR Tires, LLC can be reached via the website or by phone at 954-755-2401. Website and Search Engine Marketing provided by Atlanta SEO company Interactive Search Marketing.
# # #