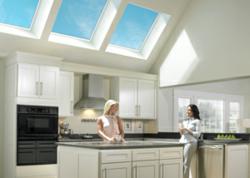 Daylighting systems offer both cost-saving and environmental benefits.
Ottawa, Ontario (PRWEB) June 24, 2011
Ottawa roofing contractor Godfrey Roofing Inc. expands its range of environmentally friendly roofing options to include commercial, industrial, and residential solar tube daylighting systems.
As one of Eastern Ontario's largest residential and commercial roofing contractors, Godfrey Roofing Inc. has been operating for over 25 years. The Ottawa-based company is an industry leader in environmental roofing solutions, regularly installing and servicing solar roofing, green roofing, and cool roofing systems.
"I am excited we are able to offer solar tube daylighting systems. The benefits are outstanding to commercial and residential clients from both a cost-saving and environmental standpoint," says Mike Godfrey, Manager of Business Development at Godfrey Roofing Inc.
"Daylighting products are fantastic. In an industrial or commercial setting, the increase in natural light helps increase productivity while decreasing utility costs. In a residential environment, customers enjoy significantly more natural daylight and lower energy bills."
"Solar tubes are very innovative," explains Mr. Godfrey. "The dome is designed to attract direct and reflected sunlight. The products filter UV light and route sunlight through highly efficient tubes, where the diffuser then disperses light evenly to the inside area. Daylighting systems installed with monitors and sensors can monitor light levels and supplement areas with electrical lighting when natural light levels are low."
Additional information regarding solar tube daylighting, or any other environmental roofing solutions, can be obtained by contacting Godfrey Roofing Inc.
Godfrey Roofing Inc.
4542 Southclark Place
Ottawa, ON K1T 3V1
(613) 822-7663
# # #