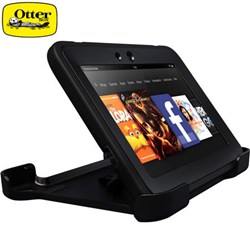 The Otterbox Defender Series uses three layers of protection, keeping the Kindle Fire HD looking newer for longer.
Birmingham, West Midlands (PRWEB UK) 28 December 2012
Mobile Fun, the UK's leading online retailer of mobile phone and tablet accessories, is pleased to have sourced the Otterbox Defender Series for Kindle Fire HD: the most protective case available for the HD Amazon tablet. The Otterbox Defender Series is available to pre-order now via the Mobile Fun website.
A highly respected brand, Otterbox claims to offer the highest quality protection to gadgets so that they remain looking new for longer. The Otterbox Defender Kindle Fire HD case uses three layers to provide complete protection to the tablet from daily wear and tear. The fist layer is a polycarbonate shell which stops any scrapes and scratches from damaging the Fire HD. Layer two is a silicone skin which absorbs any shocks and adds extra protection to the delicate corners; whereas the final layer is a screen protector which keeps the display of the Fire HD free from any damage.
Another clever feature of the Otterbox Defender Series for Kindle Fire HD is that is houses a built-in kick stand. This stand can simply be popped out when needed, so that the Fire HD can be docked at the most comfortable angle for typing, swiping and streaming media. This is perfect for when using the many streaming apps available on the Kindle Fire HD and means it can be used in complete comfort.
Not only keeping the body of the Fire HD protected, the Otterbox Defender case also protects the ports and of the Fire HD, using silicone plugs to keep any dust and dirt out of the ports. These silicone plugs can be removed when the port is needed, so that all the ports and features of the Fire HD are fully accessible while using the Otterbox Kindle Fire HD cover, meaning that the cover doesn't need to be removed to be charged.
Highly protective and highly stylish, the Otterbox Defender Series for Kindle Fire HD is available to pre-order now from Mobile Fun.
About Mobile Fun
Birmingham based MobileFun.co.uk is the UK's biggest online retailer of Mobile Accessories, Mobile Phones, Ringtones and Mobile Java Games.
Mobile Fun has offices in the UK, Germany, Spain and France and delivers products to over 50 countries worldwide
Mobile Fun were recently named the 'Best Accessory Retailer' 2012 at the What Mobile Awards and won the title of Online Retailer of the Year at the Mobile News Awards 2012 for the second year running.