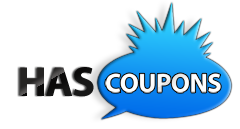 Let The Savings Start Now
Cocoa Florida (PRWEB) September 29, 2012
HasCoupons.com has three of its own exclusive promotions available right now. These are limited time only we don't want the shoppers to miss out on these free giveaways.
HasCoupons.com currently has a $10 Mail in Rebate for a BP Gas Card or a Visa Debit Card this is available until October 29th all rebates must be post marked by November 13th.
HasCoupons.com is giving away a Iphone 5 when they hit their milestone of 555th Facebook.com like, also for the 1000th like Hascoupons.com is giving that person a Smart T.V.
More giveaway promos to come shortly follow @hascoupons.com to find out details on these upcoming giveaways.
HasCoupons.com wants to help stretch everyone's dollar as long as possible. HasCoupons.com offers a multitude of different savings option from over 4,000 of the top retailers online. With a quick click of the mouse a person can get free shipping on their next purchase online. HasCoupons.com also has its own exclusive promotions still available right now.
Hascoupons.com is dedicated to becoming a staple in savings hopefully able to save everyone some hard earned money this year.
Top Saturday Savings From HasCoupons.com
Buy.com- Offers a large selection of items from electronics, clothes, home goods, and furniture. With such a wide variety to choose it rivals all large brick and mortar retail chains like Wal-Mart or Target. Buy.com offers numerous deals and discounts daily such as free shipping on many of their products.
OtterBox.com- Otter Box the leading provider of high quality cell phone case protection. Protect the Iphone 5 from drops or splashes in puddles with best quality cases from OtterBox.com.
BestBuy.com- The largest retailer of electronics has some of the best deals on their entire catalog but right now get free shipping on all computer products, laptops, and tablets. As well as the largest selection of wireless carriers from Verizon, AT&T, and Sprint makes sure to upgrade to the new Iphone 5 this weekend before they are gone
Bass Pro Shops- With fall on the way it's time to head out doors before winter comes what better way to do so than with gear from the largest retailer in outdoor gear. Bass Pro Shop offers the most in fishing, hunting, kayaking, and hiking equipment is sure to check out the discounts at hascoupons.com.
HasCoupons.com is proud to be actively involved with helping people save money on all their online purchases. To get the latest in exclusive HasCoupons.com giveaways and the best daily savings follow @hascoupons.com.
Also with Halloween creeping around the corner make sure to get the best Halloween costume discounts from HasCoupons.com frightening savings.