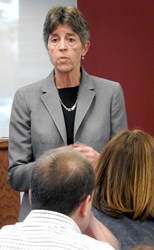 One of the things I learned as interim is that one of my most important relationships is with the Foundation Board and other stakeholders in the community – folks from the city, from the Chamber of Commerce, legislators.
Denver, CO (PRWEB) December 09, 2013
Dr. Betsy Oudenhoven on Dec. 3 officially was named Community College of Aurora's fifth full-time president in its 30-year history.
The announcement was made by Dr. Nancy McCallin, president of the Colorado Community College System, who observed Oudenhoven's five months as an interim president and was satisfied that the latter "demonstrated she has the skills and commitment to take on this role."
In fact, the five-month jump that Oudenhoven was afforded by McCallin gave her an already healthy start on addressing many of the important initiatives that face CCA, one of the Colorado community colleges, moving forward.
"When I was offered the interim position, Dr. McCallin told me, 'Don't act like an interim. Do what needs to be done and keep the institution moving forward,'" Oudenhoven said. "We took that seriously."
One of the cornerstone projects currently ongoing is formulating a strategic plan that will guide CCA over the next three to five years. Several other initiatives, ranging from creating new academic and facilities master plans to rolling out and monitoring the next phase of developmental education redesign, are deep in the planning process.
"I feel like in all honesty there's nothing that I have been waiting on, or have not decided on, or had an opinion on, or didn't ask a question about, because I was interim," Oudenhoven said. "So nothing has changed for me in that regard. I think what I'm struck by is that the college has been so incredibly supportive during the transition and there are such high expectations for how this will go. I don't want to let them down."
Oudenhoven was the college's vice president of student affairs for two years before she was asked to fill the interim president's seat in late July. Prior to joining CCA, she was VP of student development at Joliet (Ill.) Junior College. She brings more than 30 years of higher-education experience from four-year public and private state universities in Wisconsin, Minnesota, New York and Illinois, as well as four community colleges.
She received her Ph.D. in higher education from Loyola University in Chicago, her master's degree in counseling from the University of Colorado-Boulder, and her bachelor's in Psychology from St. Lawrence University in Canton, N.Y.
"I can't think of any other place I'd want to do this," Oudenhoven said of her first president's post.
She'll certainly be busy, if the concurrent projects that have already begun are any indication.
The new strategic plan is expected to fundamentally address the balance needed between college access and completion and attempt to find ways to close attainment gaps for certain student populations within a diverse group of enrollees. Two committees will present their findings to Oudenhoven in December, following two public forums. The input "will be distilled into major areas to see where there's a crosswalk to what our current goals are," she said.
But perhaps the biggest change that comes with Oudenhoven's permanent title is the sense of stability it will bring into her dealings with the greater Aurora community. CCA is currently conducting a nationwide search for a new executive director of its Foundation, the college's fundraising arm, and that new hire and Oudenhoven will be important figureheads in the community for the foreseeable future.
"One of the things I learned as interim is that one of my most important relationships is with the Foundation Board and other stakeholders in the community – folks from the city, from the Chamber of Commerce, legislators. And I think what will change in the community is now they know who they're dealing with. Now they know it's going to be me.
"I've already met a lot of folks and had a lot of nice conversations, but I think there was a little more of a wait-and-see attitude from some people," Oudenhoven added. "Now that they know I'm going to be president and that I'm going to be around for a while, I think it will be easier to develop relationships and have some of those conversations than it was before. The external piece is critical."
About CCA
Community College of Aurora has campuses at CentreTech and Lowry in the greater Denver area. Equipped with the latest technologies, CCA allows students to study new and traditional programs, while also offering degrees and online courses in Colorado. CCA's service community spans 325,000 people in a 350-square-mile area and CCA's student population reflects that diversity. The college provides lifelong educational opportunities, prepares the current and future workforce, and promotes excellence in teaching, learning and service.