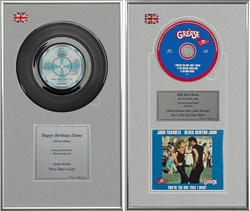 The Originals range gives our customers an opportunity to buy the authentic vinyl or CD version of their favourite single
(PRWeb UK) October 7, 2010
Our Song has announced a new service that will find, personalise and display retro vinyl or CD singles, adding original recordings to their current range of digital products and services.
The new service takes the original 7" vinyl or CD single recording and presents it professionally in a silver frame along with a personal dedication. As a bonus, the service also includes the full MP3 version of the selected song which can either be sent as an e-Song or downloaded as an individual track.
"The Originals range gives our customers an opportunity to buy the authentic vinyl or CD version of their favourite single" says Managing Director, Bryn Whitworth, "by adding their own personal messages the customer can create the most memorable gift for any occasion".
All Our Song gifts provide new ways to send a song to friends and loved ones to celebrate a particular life event or occasion. The digital products include the Symphony and Fantasia USB gift ranges and an e-Song service that allows a song to be sent instantly via email.
Both options allow the customer to choose a themed player which can be personalised with photographs, messages and any MP3 track to create a memorable audio-visual experience.
The Originals range of retro vinyl and CD singles gifts could prove to be a Christmas No. 1 in the current nostalgia seeking marketplace.
###