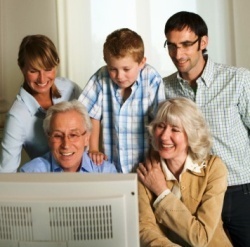 Technology eliminates distance, time, and cost barriers that keep families apart
Melbourne Beach, FL (PRWEB) September 23, 2008
OurVSN, LLC, announces the launch of OurVSN.com a virtual support network for families in pursuit of good health, active caregiving, and aging at home. The website with its simple design emphasizes usability for middle-aged and older adults. It proposes an uncomplicated way of tracking personal health to keep private or to share with others. Family and friends use the social network to connect to each other anywhere, anytime, and for free.
OurVSN was created to bridge the isolation many families experience when dealing with health and caregiving issues. Dr. S. Ann Becker is a professor with over 10 years of research experience in usable technologies. Dr. Mary Beth Minser is a healthcare professional with over 20 years of experience. Together, they developed a website to promote better living. "Technology eliminates distance, time, and cost barriers that keep families apart," Dr. Becker states. "OurVSN brings families together regardless of busy schedules or living far away."
The objective is to link both close and distant members through a social network website. An account is set up by selecting one or more health areas: blood pressure, blood sugar, pulse, behaviors, sleep, digestive, vision, hearing, energy, stress, skin, smell, taste, breathing, and more. A member makes health entries, posts comments, and views reports. Others are invited to join a member's virtual support network with controlled access to health entries and shared features.
The U.S. National Institute on Aging guidelines were used in building a senior-friendly site. Design features include larger font size, contrasting colors, and readable font type. The design lets one member set up and manage an account for another. For a member with few computer skills, this reduces the complexity of getting started.
Marie, a 77 year old member, had an account set up for her. A family member selected health areas and customized response choices. Marie clicks a checkbox for a daily rating, energy level, and daily activities. Marie enters comments such as, 'Frank's back is sore today also my leg...' and 'Helped make caramel apples at the farm...' Family members rely on these entries to help assess Marie's health and quality of life.
An estimated 46 million Americans serve as unpaid caregivers to adult family members or friends (Source: The Caregiver Initiative). Their contributions as informal caregivers are the foundation to the nation's long-term care system. Yet, their own health may be at risk. They are more likely to have chronic health conditions than noncaregivers. (Source: AARP Public Policy Institute Research Report).
"Family and friends become caregivers while managing their own health conditions. Many feel isolated, stressed, and overwhelmed," Dr. Minser explains. "OurVSN offers a simple way of tracking health for oneself and loved ones. Because families are better informed, they are more likely to assist in caregiving activities."
One in five adults will be over 65 years of age by 2030. For most, staying in their home becomes a life goal. The website is intended to support aging in place by connecting an older adult to family and friends. Daily entries about health, behaviors, and activities supplemented with posted messages and events are accessible to those in the virtual support network.
The website targets caregivers categorized in three user segments:

30 to 44 years of age - Focused on proactive health management and staving off the onset of chronic and acute health conditions.
45 to 59 years of age - Focused on quality of life and better living by managing chronic and acute health conditions and staving off the onset of additional ones.
60 years plus - Focused on aging at home and life longevity by managing multiple chronic and acute health conditions.
OurVSN is currently available for anyone to use. There is no limit to the number of family and friends that can join a member's virtual support network.
OurVSN, LLC, is co-founded by Dr. Mary Beth Minser and Dr. S. Ann Becker. Dr. Minser lectures and writes articles on health and wellness. Dr. Becker has done extensive research on web usability for older adults and technology for aging caregivers. For more information, visit Ourvsn.com or call (321)213-7370.
###