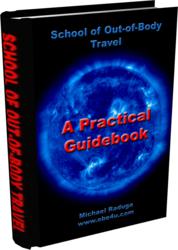 The main goal in creating the book was to dispel the stereotype that out-of-body travel is something make-believe or exceedingly difficult.
Los Angeles, CA (PRWEB) November 07, 2011
After 4 years of intense research on methods for mastering out-of-body experiences, the OOBE Research Center is making the final version of its book School of Out-of-Body Travel available to the public (download PDF version). In order to create the book, hundreds of experiments participated in by more than 3,000 were conducted in the United States, Russia, and other countries. This resulted in the development of a universal and simple process for training others to travel out-of-body. According to the statistical results of the study, success will be had 50% of the time in only 1 to 5 attempts made over the course of 1 to 3 days. The success rate jumps to 90% over 20 attempts.
The first section of the book presents fast-track instructions for novices that can be read in one sitting, thus providing practical experience as soon as possible. Part two features 100 out-of-body experience accounts shared by diverse practitioners from all around the world to serve as examples and motivate. Finally, part three comprises a practical textbook detailing both how to control the phenomenon and its practical applications: traveling, obtaining information, self-healing, creative development, the alternative to narcotics and computer games, rehabilitation for the disabled, and much more.
Author Michael Raduga explained, "The main goal in creating the book was to dispel the stereotype that out-of-body travel is something make-believe or exceedingly difficult. Believe it or not, trying out pretty simple techniques is all that's necessary to experience our incredible nature-given abilities".
Distinguishing features of the book School of Out-of-Body Travel: 1 – completely free download via direct link; 2 – the concepts of out-of-body experience, lucid dreaming, and a number of other similar phenomena are brought together under the term "phase state"; 3 – the primary emphasis is on the so-called indirect techniques, which are performed within the first moments after awakening; 4 – the book avoids theorizing and is devoted to actual practice, which is approached in the most pragmatic way. The book is available in English, Russian, Spanish, and Czech as a free download (The Chinese, French, and Portuguese translations of the book will be available by the end of 2011).
The OOBE Research Center was founded in 2007 by Michael Raduga for the purpose of studying the phenomena of out-of-body experiences and lucid dreaming. The Research Center received international renown after an experiment involving mass contact with UFOs and aliens in Los Angeles, which provided the first experimental evidence that most alien abduction accounts stem from spontaneous out-of-body experiences.
The book may be downloaded on the author's website or the OOBE Research Center website.
###