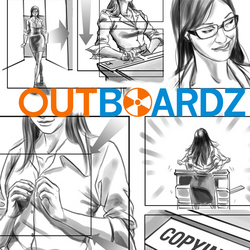 Now there is a way to save 70% on your storyboard costs while making no compromises in quality
Los Angeles, CA and Manila, Philippines (PRWEB) April 26, 2010
Outboardz, Inc., a representative agency for storyboard artists, has announced the launch of its international storyboards project, offering top, award-winning international storyboard artists for U.S., European and Australian commercial, film and other media projects at a fraction of the cost of local markets.
"Working with the right storyboard artist is a key step in bringing any media project to life. But working with top artists can be prohibitively expensive, stretching already tight budgets to the limit," says Company President Andy Schachtel.
"Now there is a way to save 70% on your storyboard costs while making no compromises in quality. Outboardz has put together a group of top, award-winning storyboard artists in the Philippines, making it possible to work with high-level international storyboard talent for a fraction of current costs. And it couldn't be simpler; we are U.S.-managed and we work in the same way as local storyboard agencies that producers may already be familiar with," he adds. Prices start at $250 per day for top artists.
To get started, Producers can simply visit the company website at http://www.outboardz.com to view artists' work. Once they've found an artist they like, they call or e-mail Outboardz to set up a session with the artist to produce any type of boards, from black-and-white production sketches to full-color presentation boards.
Collaboration tools such as video Skype, secure FTP and high-quality scanning have made it easier than ever to work together from remote locations. All of Outboardz' international artists are fluent in English and have experience on a variety of international projects. In addition to commercial storyboards, Outboardz artists have expertise in providing storyboards and artwork for TV, movies, games, character design, events, products, packaging, web design and other graphic design projects.
On your next project, make your resources and vision go further with storyboards from Outboardz.
# # #