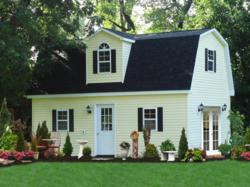 The toughest years for the outbuildings industry turned out to be the best of years for this growing family owned and operated corporation.
Gap, PA (PRWEB) December 31, 2012
Amish barns and outbuildings manufacturer, Sheds Unlimited INC of Gap, PA has reported that 2012 revenue sheets show another year of solid growth in shed and garage sales. For the past five years, Sheds Unlimited has been experiencing double digit growth nearly every year, says a company manager. By applying the Amish ethics of persistence, innovation and quality products, Sheds Unlimited INC has managed to grow their family owned and operated corporation during the toughest times of the United States economy.
Amish barns and outbuildings have a long history in the Sheds Unlimited Stoltzfus family tradition. First, they spent many years milking cows and caring for animals in the large dairy barn on the fourth generation family farm. Then in the 1990's when milk prices were low and costs were high, the family ventured into building a few barns and outbuildings in the equipment storage area of the cow barn. That only lasted a short time until the local town ordered them to stop due to zoning restrictions.
But that was not the end of the Stoltzfus family's Amish outbuildings entrepreneurship. The family persisted and started anew on the farm of an uncle about nine miles from the family farm. The Honey Brook town ordinances allowed for using existing farm buildings for small business ventures. So for several years father and sons would drive the nine miles twice daily to build their custom outbuildings in an uninsulated tobacco shed in Chester County, PA.
After several years, officials where the Stoltzfus family farm was located asked the farmers and homeowners for ideas on rezoning the area. It was after that the Sheds Unlimited was able to build a prefab outbuildings manufacturing shop on the family farm in Gap, PA. The building was soon completed and thus placing the family outbuildings business on the working family farm. The oldest son ran the dairy while several brothers and dad continued building outbuildings.
"That was in the days when anyone could run a business and succeed without trying", says a brother who helps manage the growing company. But then the economic downturn hit the barns and outbuildings manufacturing sector. While at one time almost any Amish outbuildings producer could count on 6-8 weeks of backlog during the busy summer months, many shed and prefab garage builders were simply happy to keep their employees working. Some had to cut back on days worked, others were happy for just a two week order backlog and several Amish outbuildings manufacturers were even forced to close their doors during these tough times.
But things were different for Sheds Unlimited. New management and attractive outbuilding designs combined with an edge in internet marketing led to record sales year after year. Sheds Unlimited has the advantage of having an in-house internet specialist who has spent the past years developing that part of their company. Chris is the middle son of five in the Stoltzfus family who has no formal training in web design or marketing. Not long before the economy took a dive he bought a $100.00 computer program to create a website. That program changed the way their business has operated since that time.
Chris put together a simple outbuildings website with prices and a few good quality photos. With the website up and running it was only a short time before calls and sales increased substantially. With some extra work to bring their site to the top, Sheds Unlimited began selling more and more portable outbuildings and prefab garages and traveling greater distances to deliver them. Sales in PA, NJ, NY, CT, DE, MD, VA, and WV slowly increased as the website continued to expand. And while the webmaster declined to share the secrets of their success, he did say that creating a website which works takes hundreds of hours of meticulous and dedicated work.
But whatever the cost or time put into building this website, the payback has far exceeded the Amish outbuildings manufacturer. Barns and outbuilding sales have increased in the double digits for most of the past five years. In 2012 sales were up 7% over last year and have more than quadrupled over the past several years. Double digit increases from year to year have been common for the past several years. In a nutshell, the toughest years for the outbuildings industry turned out to be the best of years for this growing family owned and operated corporation.
New product lines have also helped increase sales over the past five years. In the beginning, Sheds Unlimited was producing only wooden outbuildings. Soon they graduated to vinyl outbuildings of various sizes and styles. Next they added the classic outbuildings line and more recently the Premier Garden Outbuildings and Legacy Two Story Outbuildings which are a great choice when looking for a modular garage with an apartment area.
Growth in the past years has taken a lot of effort, say the Sheds Unlimited INC managers, but with the help of a creative management and design team, robust internet marketing and new Amish outbuilding products, the business has thrived. And while Sheds Unlimited does not know what the future holds, they hope to continue to offer great products and competitive prices and serve their customers with superior service in 2013.