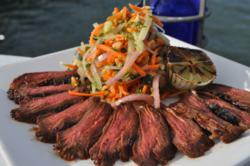 San Francisco, CA (PRWEB) April 18, 2013
Pier 23 Café has announced new menu items for spring, and are encouraging customers to come down to try them while they enjoy new musical acts as well. Pier 23 Café has always been known as a unique waterfront restaurant in the San Francisco Bay area, and prides itself on offering new creative dishes for patrons while they enjoy a gorgeous view.
For a cool, healthy treat, the new Butter Lettuce Salad is a great choice. Thin slices of cucumbers, mangoes and shards of watermelon radish, are tossed with red onion all served over butter lettuce and dressed with a coriander vinaigrette. For a spicier option, the new Seared Beef & Papaya Salad is not for the faint of heart. The chile crusted sliced beef is bursting with heat, but is relieved by the flavorful green papaya. Topped with pickled onion, toasted peanuts, and garlic chips that add nice crunch and layers of flavor that reveal themselves more with each bite.
During the week, customers can enjoy some great jazz from artists like Marty Eggers or the Dick Conte Duo. On Saturday, April 27 at 9 p.m., The Bayonics, San Francisco's own hip-hop/funk powerhouse, will perform. On Sunday, April 28 at 4 p.m. customers can enjoy some rockin' Americana with the Whiskey Pills Fiasco. For a full list of events and details, visit http://www.pier23cafe.com/events.
Pier 23 Café encourages their friends to come down, enjoy delicious dishes and a live show, right on the waterfront.
About the company:
Pier 23 Cafe is a unique waterfront restaurant specializing in fresh seafood, live music and beautiful views of San Francisco bay. Family owned and operated for over 25 years, Pier 23 Cafe captures the heart and soul of a city obsessed with food. The large bay side patio allows patrons to soak up the California sun while enjoying creative dishes made from fresh, local ingredients and the entertainment of live bands. Night time outdoor dining in the heated tent is complimented by maritime activity and amazing views of Treasure Island and the Berkeley Hills. Come down and enjoy the locals' favorite seafood restaurant and experience some real waterfront history. For more information, please visit their website at http://www.pier23cafe.com.