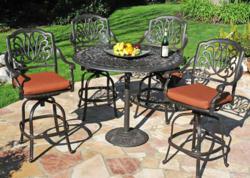 Synthetic patio furniture is made of rust-proof aluminum framing and weather resistant resin wicker which looks just like the real thing, but won't crack or fade.
(PRWEB) August 07, 2012
HomeThangs.com – the Home Improvement Super Store has made their goal to deliver the right product to the consumer, with that in mind, shopping and home design tips, as well as special product selections are being introduced.
Designers at HomeThangs have introduced a patio furniture style guide as well as a product selection for those who are thinking about overhauling the patio area but not quite sure what direction to take it in.
There are a lot of choices out there, and it can be a little overwhelming to try to find outdoor furniture that matches the home, outdoor space, and entertaining style. This quick and easy patio furniture style guide will give you a few ideas for where to start.
1. Garden Style
One of the very most traditional types of outdoor furniture is the ornate wrought iron bench. Right at home in blooming gardens and whimsical pathways, beautiful patterned metal benches, seats, and tables are perfect for people with a lot of lovely landscaping and an entertainment style that focuses on lazy afternoons rather than late night soirees. The Florence Garden Bar Set (and matching Garden Bench) from Caluco are perfect old world style, but are made of powder coated cast aluminum, which is much lighter than wrought iron, and won't rust. Plus, they come with comfy, weather-resistant cushions, so they're a little more comfortable than the old fashioned way!
2. Casual but Classy
Wood is another extremely popular material for outdoor furniture. From picnic benches to the iconic Adirondack chair, planked wood is a logical choice for a kind of furniture to put on a deck. Wood seating and tables are comfortable and homey, and just a little bit rustic, which is a great way to give the patio a casual, outdoorsy feel. Teak and Ipe woods are naturally weather resistant, and will stand up to aging much better than almost any other type of wood. Of course, good design is important, too. In the 11 Piece Teak Outdoor Dining Set for example, the chairs stack and the table has an expandable leaf, so the set can easily be stored or adjusted to the size of the party – perfect for back yard entertainers and grill aficionados.
3. Cottage Wicker
For a quaint, homey look and feel that's a little more inviting than wrought iron, wicker is recommended. The woven material is iconic cottage style, and good for creating a timeless lounge space – great for a sunny brick or stone patio, or even an enclosed porch. Natural wicker, though, (sometimes called rattan) can be expensive, and isn't exactly known for its longevity. Natural wicker is extremely susceptible to harsh weather conditions, and will become brittle and crack over time. For those who love the look, there are synthetic wicker patio sets available, such as Key West Set by Caluco, which are made of rust-proof aluminum framing and weather resistant resin wicker which looks just like the real thing, but won't crack or fade.
4. Cutting Edge
Modern patio furniture is starting to become hugely popular. With simple, sleek lines and subtle but stylish design, modern patio furniture is easy to like, easy to place, and easy to sit on. Especially because it often has a modular design to it and is sold in individual pieces as well as larger sets, it's easy to accommodate a larger space. The Ipanema set by Zuo for instance, is easy to move around and adjust to create unique seating shapes to suit the party.
5. Retro
Retro patio furniture is starting to make a comeback. Especially with the wealth of new rust-resistant and weatherproof materials, old styles are finding new life in longer-lasting forms. From wire chairs to brightly colored clear plastic patio furniture like the Ruffle Chair and Prisma Stool by Zuo, it's easy to get a groovy, throwback style for the patio. Many of these pieces are stackable, but a whole lot more stylish than an average plastic patio chair.
6. Island Resort Inspired
For those who spend a lot of time poolside, or dream of a vacation with a view of the Caribbean, there is some special furniture available. Is addition to chairs or tables, there are lounges, chaises, and outdoor beds. For example, Hampton Outdoor Bed by Zuo, which has a huge umbrella to shade the sun, two adjustable seats, and storage underneath for all your spare towels – perfect for lounging, tanning, or just soaking up the summer.
7. Space Saving
In one sense, going with compact or collapsible patio furniture is more of a practical choice than a stylistic one, but something like the Naples Table Set by Zuo adds to the style too. The whole set nests inside itself – ottomans inside the chairs, and chairs perfectly underneath the table, so when they are not in use, they make a perfect resin wicker cube with a tempered glass table top.
HomeThangs.com is not only a home improvement superstore, it also provides expert design tips and a comprehensive shopping guide, taking the ideas from professional interior designers, and offering tips to the consumers on how to pick the products to best suit their needs.