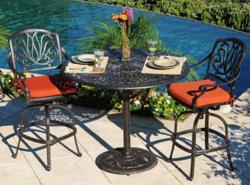 Modern Victorian garden tables are lighter, rust-proof, and easy to clean without sacrificing a traditional wrought iron style.
(PRWEB) May 21, 2013
HomeThangs.com – the Online Home Improvement Store has made their goal to deliver the right product to the consumer. With that in mind, shopping and home design tips, as well as special product selections are being introduced.
The image of the classic English garden is practically ubiquitous: well kept hedges, colorful flowers, and whimsical stone paths dotted with elegant wrought iron Victorian garden tables and chairs. It's a scene that's idyllic, pastoral, and requires a whole lot of maintenance. Modern Americans don't often have the time to keep up a garden of this magnitude, but with recent advancements in outdoor furniture materials, it's possible at least to get the pretty lace-like tables without all the upkeep. With that in mind, HomeThangs.com introduces a guide to convenient modern Victorian garden tables.
Victorian garden tables were historically made with wrought iron – that is, all of those intricate details were made by hand and hammer. The result was beautiful, ornate, and very durable, but also extremely heavy and very prone to rusting. While wrought iron garden tables won't turn rust red, if exposed to water over time they will stain concrete. But modern garden tables are most often machine made from extruded or cast aluminum, which offers similarly beautiful designs, but is extremely lightweight, rust proof, and often powder coated to resemble wrought iron.
One of the biggest trends in outdoor furniture in general is a move towards more weather resistant materials. The aforementioned powder coated aluminum, resin wicker, and woods like teak that are naturally more water and weather resistant are quickly becoming the norm. But for a Victorian garden table that's meant to be left out year round, aluminum is definitely the best choice. It requires almost no care and doesn't need to be covered in the off season. In fact, unless it's exposed to very polluted air or a salty seaward breeze, it should only need a simple wipe down with soapy water or diluted vinegar at the end of each season to keep it looking like brand new.
Real Victorian garden tables and chairs were often left uncovered and uncushioned because they were left outside in cold, rainy weather year round. That said, colorful cushions made of weather-proof materials have become a common addition to modern Victorian garden tables. Sunbrella fabric and other materials like it repel water, resist stains, mold, and fading, and are all around durable and easy to care for. While the addition isn't traditional, cushioned Victorian garden chairs are much more comfortable and add a nice pop of color to make up for the portion of the design that's covered up.
Small, bar style Victorian garden tables are perfect for integrating seating into a garden landscape. A sturdy cast or extruded aluminum construction means they can be placed comfortably just about anywhere and left there year round, offering seating without taking much space. Plus, the pretty loops and whorls of the design will add that touch of old world elegance to a blooming, vining garden.
The most traditional Victorian garden tables are designed to seat four. Easily placed on a deck, brick or stone patio, directly in a garden, or even in a sun room, these tables are an elegant way to seat a small group. Models with a glass top covering the intricate tabletop can be better for regular dining, offering a smooth, stable surface for cups, plates, and flatware that's also a little easier to clean.
Most outdoor dining sets that are designed to seat six or more are usually made of wood, either in the style of indoor dining tables or more like park benches. But simple plank style tables simply don't have the flair and pizzazz of Victorian garden tables. A larger, elongated Victorian garden table with six or more seats offers the best of both worlds. It isn't quite as petite and dainty as the traditional round tables, but mimics the old world style while offering a greater degree of utility and convenience.
For more help choosing a weatherproof Victorian garden table, and to see more beautiful tables from Caluco read the full version of "Victorian Garden Tables With A Convenient Modern Twist"
HomeThangs.com is not only a home improvement superstore, it also provides expert design tips and a comprehensive shopping guide, taking the ideas from professional interior designers, and offering tips to the consumers on how to pick the products to best suit their needs.