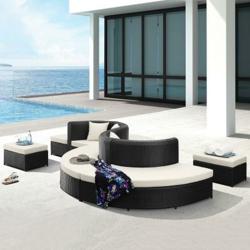 HomeThangs.com introduced Zuo's island-inspired collection of outdoor furniture, which is available in flexible packages designed to fit almost any size patio
(PRWEB) July 17, 2012
HomeThangs.com – the Home Improvement Super Store has made their goal to deliver the right product to the consumer, with that in mind, shopping and home design tips, as well as special product selections are being introduced.
Above all else, patio furniture needs to be weather proof. If it isn't, no matter how good it looks or how comfortable it is, it isn't going to last very long. Too often people end up getting either super utilitarian furniture that doesn't look so great or attractive but less practical pieces that won't be looking so good after a season or two.
To address both issues, HomeThangs.com introduced Zuo's island-inspired collection of outdoor furniture, which is available in flexible packages designed to fit almost any size patio.
To educate consumers HomeThangs suggests a shopping guide tip sheet on what qualities are important to look for in outdoor furniture, and why patio furniture by Zuo fits the profile:
1. Zuo's outdoor tables, chairs, and lounges are designed to be weather resistant, with epoxy-coated aluminum frames that won't rust in any weather conditions, covered in UV treated polypropylene, a synthetic woven material that looks a little like black wicker but that's weatherproof and won't fade or crack over time. The tabletops are made of tempered glass, like the one on this Railay Pub Table 701260, which makes them durable, and the cushions, like those on this matching Railay Pub Stool 701261, are made of UV and moisture resistant polyester that won't fade or lose its supple feeling, and is easy to wash.
2. Despite the heavy focus on durability, Zuo patio furniture doesn't look utilitarian. Something like the adjustable Hampton Outdoor Bed 701191 (which has four reclining areas for two to sit together or opposite each other) would make a pair for a tropical, tiki-themed outdoor space – great for poolside or for a deck or large balcony with a view. The design is simple and easy to accessorize (especially with Zuo's colorful, water resistant outdoor pillows).
3. No matter how big or small the space, there's something in this collection to fit. Many of Zuo's more compact patio furniture sets, such as the Turtle Beach Table Set 701148 and matching 701210 Outdoor Chairs are suited for smaller or less frequently trafficked areas. All the chairs fit neatly underneath the table top when not in use, for a clean, uncluttered space, but can pull out to accommodate four around the table when needed.
4. For a larger outdoor space, there's the Agadir Table 701231 and Chair Set 701230 - a slightly bar-styled piece of patio furniture that can seat up to six on tall bar-style stools that fit right under the long, thin table.
5. A piece of furniture broken it into smaller pieces provides flexibility. The Curaco Daybed 701190 for example – with a two-piece structure that works like a bed when the two pieces are pushed together, a lounge with the foot rest pulled slightly out, or two entirely different seating areas (a sofa and a bench) in a pinch.
6. For a very large deck, especially one that plays host to a large number of guests – Zuo has patio furniture too. Combining a Curved Bench 701370, Round Corner Sofa 701371, and a Rectangular Bench 701372, the Ipanema set offers a supremely flexible design. Depending on pieces selected, one can make anything from the curved, dual sided to a long, straight bench with curved ends – the sky is really the limit.
Zuo's Noronha Patio Furniture Set is similar, but with different pieces to choose from, including a Middle Sofa 701162, Corner Sofa 701161, Armchair 701160, Ottoman 701164, and Coffee Table 701163. This wide selection gives more flexibility for long, straight spaces, but also with the option to make small, intimate corner nooks, or individual poolside lounges. For a big, sprawling deck, one of these sets is a good choice as. If the configuration has to be changed for a larger or smaller group, a modular set like this gives the flexibility to do so.
HomeThangs.com is not only a home improvement superstore, it also provides expert design tips and a comprehensive shopping guide, taking the ideas from professional interior designers, and offering tips to the consumers on how to pick the products to best suit their needs.