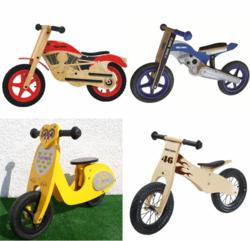 By providing a constant range of new and unique products we can ensure that our online store gives our visitors the choice they demand
Solihull, West Midlands (PRWEB UK) 28 November 2012
The Garden Furniture Centre's garden play equipment range now includes a selection of eco-friendly wooden balance bikes tailor-made for younger children. The new fun products include five new additions within the Dygio Moto Wooden Balance Bikes range.
Balance bikes have now become the favourite choice of parents for teaching their young children how to ride their first bikes. The bikes give younger children the confidence to step up into using larger pedal bikes without the use of stabilisers.
The play bikes are sure to prove popular and come in an eye-catching range of colours and designs. The firm's new wood bike styles include the Spyder and Drag Bike with & Trailer, Swoops Scooter, Rocky Motorcycle, Harley Bob Motorcycle and the Ryder Scrambler.
Most importantly the products adhere to European safety standards and are suitable for children to use in their quest to improve balancing skills. With the Christmas season fast approaching the bikes could provide the ideal learning gift and provide fun for children at the same time.
The company's Managing Director said, "We are always looking to expand our product range. By providing a constant range of new and unique products we can ensure that our online store gives our visitors the choice they demand."
The Garden Furniture Centre has been established for over 20 years and now stocks over two thousand outdoor furniture items. Product ranges include protective covers, easy clean patio furniture sets and conservatory furniture along with all the essential accessories that accompany the large product range.
In addition to the new wooden bike products, there is a new modular type gazebo in the form of the Mayfair Wooden Gazebos, along with luxury Chatsworth Conservatory Suites.
The company's gardening blog gives useful and up to date information and is a reliable source for new product updates, news tips and ideas.
Additional information available:
Web: http://www.gardenfurniturecentre.co.uk
Tel: 01564 793652
Fax: 01564 797353
Public Showroom: Yew Tree Farm Craft Centre, Wootton Wawen, Solihull, West Midlands B95 6BY.
Brochure Request: gardenfurniturecentre.co.uk/acatalog/request-brochure.html