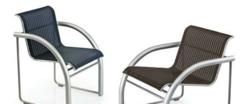 San Francisco, CA (Vocus/PRWEB) April 06, 2011
Just in time for the spring outdoor season, the San Francisco outdoor furniture Dunkirk Showroom is introducing a new classic group from USA-based Richard Schultz Designs, as well as European collections from Henry Hall Designs and The Kettal Group.
Over a time period of several weeks the arrival of the collections will serve as the national introductions to the West Coast Landscape Architect and Design Community.
American-based, Richard Schultz Design is a modern furniture design, sculpture and art company, that creates furniture directly relating to sculptural form and its relationships to nature and man. They have recently launched a collection called "Mateo" with frames made of anodized aluminum with a proprietary elastomeric mesh seating. Mateo enduring designs express a simple, timeless beauty and are made of high-performance materials.
Henry Hall Designs of San Francisco is launching a collection from leading American designer Karim Rashid for Italian furniture company Talenti. The new pieces are fabricated in linear steel and exhibit a nostalgic look at mid-century with modern twists. Henry Hall has added to its successful Fusion Collection by introducing Fusion II from Danish designer Mads Odgard.
The Kettal Group from Barcelona, Spain is introducing Bitta, a revolutionary seating system that combines powder-coated aluminum frames with seating foundation support made from braided polyester rope and cushioning. Light in weight and feel, Bitta feels like cozy nests—perfect for sitting and relaxing.
For more information about outdoor furniture or any of Dunkirk's products, call them at (415) 813-4194 or visit them on the web at http://www.outdoorfurnituresanfranciscoca.com.
About Dunkirk
Located in the San Francisco Design Center, Dunkirk is a trade-only outdoor furniture retailer that works with architects and design professionals. The showroom offers exquisite teak furniture, aluminum and steel furniture and wicker furniture in San Francisco.
# # #