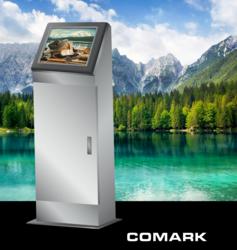 It's perfect for variety of outdoor self service applications
Medfield, MA (PRWEB) June 10, 2013
Comark is pleased to announce the addition of a new Outdoor Pedestal Kiosk to their rugged Retail/Self Service product line. This rugged, cold rolled steel kiosk enclosure features a 17", 1000 NIT sunlight readable LCD display, with a projected capacitive touch screen. The kiosk is ADA reach compliant and can be configured with multiple CPU and peripheral options, including: thermal printer, ticket printer, magnetic card reader, speakers, and more. Custom colors and branding options are available. The rugged pedestal kiosk has a small footprint and is ideal for stadiums, amusement parks, malls, outlets, campuses, tourist information centers and other outdoor venues. It's perfect for variety of outdoor self service applications such as: Tourist information, Way finding, Ticketing, Surveys, Check-in, Registration, Reservations, Sign up, and Loyalty and Reward Programs.
For additional product information or for a price quote, please visit http://www.comarkcorp.com or contact Scott Plesh at 508-359-8161 ext.115 or email at splesh(at)comarkcorp(dot)com.
About Comark Corporation
Comark Corporation designs and manufactures high-performance, ruggedized computer solutions for Kiosk, Digital Signage, Military, Marine, Building Automation and Industrial Automation market segments. The company is driven by innovative designs and over 30 years of expertise in designing custom, high-performance computers and displays. Seamless integration with state-of-the-art software and network applications delivers dynamic solutions engineered for customer-specific requirements.
Comark offers a variety of standard rugged and reliable kiosk and digital signage solutions for retail or self service applications. Comark can custom design a solution to fit your specific needs or environmental requirements and has provided systems to the world's Fortune 1000 companies for over 35 years. Comark offers a broad range of standard solutions, custom designs and technical support to ensure the success of each and every application.