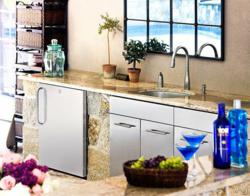 Outdoor kitchens can easily be scaled to the size and needs of the space: the scope depends entirely on the homeowner's entertainment style.
(PRWEB) May 28, 2013
HomeThangs.com – the Online Home Improvement Store has made their goal to deliver the right product to the consumer. With that in mind, shopping and home design tips, as well as special product selections are being introduced.
Plenty of people have a grill or fire pit in their backyards – even really nice ones, often accompanied by some pretty nice patio furniture. Outdoor kitchens are the next step beyond that: with built in grills, plumbing, electricity, appliances, and even old fashioned brick ovens. For a big-time entertainer, this is a dream come true: there's no running in and out, passing of plates or piling up of dishes. All the work, from refrigerator to grill to plate to belly, can be done outside. Outdoor kitchens make a great home extension and work especially well to enhance a pool area, deck, or patio. In warmer climates they can even be used year-round. HomeThangs.com has introduced a guide to some of the basic elements that go into making an outdoor kitchen.
1. The Grill
The grill is the heart and soul of all outdoor cooking. In outdoor kitchens, grills come built in, with cabinetry and counter tops like those found indoors. Outdoor kitchens also frequently come equipped with a range hood designed to suck away smoke and minimize eye-burning odors and heat from cooking. Wood burning ovens make a great, functional alternative to fire pits, but will need to be built from scratch.
2. Refrigeration
Keeping ingredients cool is one of the great difficulties of cooking outdoors. Avoiding leaving food – especially meat – sitting out can mean a lot of shuffling in and out of doors for ingredients. Installing an outdoor refrigerator into the counter top alongside the grill is a near perfect solution. Even small, under-counter refrigerators can store all the ingredients for a big cookout and keep them at a safe temperature until they're ready to be used.
3. Prep Sink
Outdoor kitchens don't include dishwashers – after all, once the party's over, the cleanup can be done more easily indoors. But the addition of a small prep sink with a cold water hookup is a simple sanitary option, allowing hands and utensils to be washed without a trip back inside. Not only does a small sink make managing small messes easier, but it can also help prevent cross contamination. Larger, trough style sinks can even be filled with ice and drinks and used as an alternative to a traditional cooler.
4. Drink Dispensing
While a grill, refrigerator, and sink are the basic building blocks of an outdoor kitchen, those who do a lot of entertaining might want to consider adding a few more appliances. From built in kegerators that serve up to three pony kegs of beer on tap to wine coolers that store white and red white at the perfect serving temperature, oft-used outdoor kitchens are a great place for novelty appliances, including much of the equipment used in a home bar.
5. Ice Is Nice
Perhaps one of the most underrated appliances indoors, ice makers are fantastic for outdoor kitchens. These look like narrow mini-fridges and can be built into outdoor cabinetry. Outdoor ice makers can make upwards of 44 pounds a day – plenty to fill a cooler or two with ice to spare for a round or two of margaritas. Because they don't take up much space, ice makers can be installed even in smaller outdoor kitchens. Refrigeration might be more important, but for big time entertainers, an ice maker can mean never buying a big bag of ice again.
To see what an outdoor kitchen looks like in action, view the full article here.
HomeThangs.com is not only a home improvement superstore, it also provides expert design tips and a comprehensive shopping guide, taking the ideas from professional interior designers, and offering tips to the consumers on how to pick the products to best suit their needs.