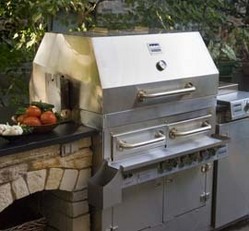 The Chopping Block has made a real commitment to teaching the fun and rewarding art of outdoor cooking, and we're happy to have them using our outdoor kitchens
Chicago, IL (PRWEB) July 2, 2009
Kalamazoo Outdoor Gourmet announced today the installation of a custom outdoor kitchen in the newly-opened three season patio at the Lincoln Square location of The Chopping Block, Chicago's premier school for home cooks. Kalamazoo Outdoor Gourmet will also be the official outdoor kitchen sponsor for a wide range of the Chopping Block's outdoor cooking classes and other outdoor cooking events.
The Chopping Block's state of the art custom outdoor kitchen features two high-performance Kalamazoo grills, the the K900HB hybrid grill and the K900GB gas grill. Rounding out the outdoor cooking capabilities are an Outdoor Artisan Pizza Oven and a wok-ready cooktop. The Energy Star rated outdoor refrigerator and refrigerated drawers keep things cool along with the outdoor beverage center for storing wine and other drinks. A wide array of outdoor kitchen cabinets by Kalamazoo provides ample storage for this teaching kitchen. Their weather-tight design keep everything clean, dry and ready for action. Thoughtful features like the pull-out cutting boards and waste and recycling containers provide convenience for the chefs and students. The outdoor kitchen is loaded with amenities and is a fully-functional space for classes, cooking and entertaining.
"We are excited about our new outdoor kitchen from Kalamazoo. The layout provides more space to work for our outdoor cooking classes than we've ever had, and we're looking forward to taking advantage of all the new capabilities," said Shelley Young, founder and CEO of The Chopping Block.
"We are accustomed to working with the world's best cooking equipment, and Kalamazoo Outdoor Gourmet epitomizes the kind of innovation, uncompromising quality, design and performance that we enjoy. They have set a new standard for outdoor kitchen equipment."
Classes in the outdoor kitchen include "Pizza on the Grill," "Marinating and Brining," "Meats on the Grill," "Grilling and Chilling," and many more. The outdoor cooking season is in full swing with grilling classes and special events happening nearly every day of the week.
"The Chopping Block has made a real commitment to teaching the fun and rewarding art of outdoor cooking, and we're happy to have them using our outdoor kitchens," said Pete Georgiadis, president of Kalamazoo Outdoor Gourmet.
As with all Kalamazoo Outdoor Gourmet kitchens, the Chopping Block's custom outdoor kitchen was built-to-order and designed to address the specific outdoor cooking and grilling needs of the client.
Kalamazoo outdoor kitchens can be customized by homeowners and design professionals to include:

A wide range of cooking equipment which includes not only its distinctive grills, but also lobster boil pits, wok burners and even a countertop stainless steel pizza oven that delivers superior performance to a Tuscan wood burning pizza oven.
Weather-tight cabinets with top quality professional stainless steel construction inside and out -- from the doors and drawers to every pull, hinge and slide.
Customizable cabinet systems that serve the needs of every cook -- glide out cabinet bottoms for easy access to heavy items, under-counter cutting board trays, pull out spice racks, slot systems inside doors for utensil hooks, waste bins, sauce racks and more.
Energy Star® qualified outdoor refrigerators and refrigerated drawers that are the only undercounter refrigerators rated for food storage. The full line, built in partnership with Perlick, includes refrigerators, freezers, clear ice makers, wine chillers and keg tappers, which are proven to perform even in ambient temperatures of 110°F.
Ventilation hoods designed specifically for Kalamazoo Outdoor Gourmet's largest and most powerful hybrid grill when cooking with a strong wood fire and/or gas.
About Kalamazoo Outdoor Gourmet:
Kalamazoo Outdoor Gourmet has been bringing gourmet lifestyles outdoors for more than 100 years and is the one-stop resource for creating the ultimate outdoor kitchen. From revolutionary hybrid grills that cook with charcoal, wood and gas, to the most powerful and energy efficient outdoor refrigeration available, Kalamazoo is the leading manufacturer in outdoor kitchens and outdoor cooking and entertaining equipment. The complete line includes grills, refrigerators, freezers, wine chillers, keg tappers, weather-tight cabinets, wok cooktops, lobster boil pits, martini bars and a countertop pizza oven. Please visit http://www.KalamazooGourmet.com for more information or call 1.800.868.1699 to speak with an outdoor kitchen design expert.
###