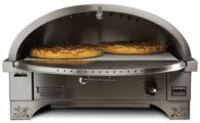 Pizza ovens have proven to be a popular part of newer and larger outdoor kitchens, and we believe this trend will soon extend to outdoor kitchens that are more modest in scale
Chicago, IL (PRWEB) August 5, 2009 -
Fire and stone; when combined correctly these simple elements can make some of the most perfect meals. A recent Outdoor Kitchen Design Trends Report from Kalamazoo Outdoor Gourmet™ finds homeowners embracing these two elements in the form of pizza ovens to bring more versatility to their outdoor kitchens.
"Pizza ovens have proven to be a popular part of newer and larger outdoor kitchens, and we believe this trend will soon extend to outdoor kitchens that are more modest in scale," said Pantelis A. "Pete" Georgiadis, president of Kalamazoo Outdoor Gourmet.
The increase in popularity of pizza ovens can partially be attributed to the artisanal cooking trend that began in restaurants, moved into homes and now to outdoor kitchens. Its hallmark is a reverence for the best ingredients used in simple combinations and prepared exceptionally well. Artisanal pizza in particular requires intensely high heats and absolute precision, and proponents of the classic style tend to be nothing short of fanatical about the perfectly blistered crusts with evenly melted toppings, baked in mere minutes.
The pizza oven's popularity is also due to its size and the ability to add it, without the need for remodeling, to an existing outdoor kitchen. Sitting on any counter top and fired by liquid propane or natural gas, the Kalamazoo Outdoor Artisan Pizza Oven delivers cooking characteristics found in the biggest, most elaborate wood-fired models.
The best pizza oven is the one that cooks evenly, has the ability to heat quickly and can reach the highest temperatures required to make the most specialized pizzas. The Outdoor Artisan Pizza Oven takes the best of the old world and combines it with new technologies. The professional baking stone that is the oven's cooking surface and the low, arched top are nods to the traditional, their heating and cooking characteristics delivering a perfectly cooked crust and toppings. Gas firing, stainless steel construction and digital thermometers are the new technologies that deliver more consistent heat and better cooking.
The precision heating found in a Kalamazoo Outdoor Artisan Pizza Oven allows outdoor kitchen enthusiasts to cook everything from thin or thick crust, pan or stuffed pizzas, even calzones or artisan breads. With a broad temperature range from 350° to more than 750°F, and rapid heating capabilities, the high-performance gas burner offers you the ability to cook with absolute confidence.
"People never forget the first time they taste the perfection of a flash-cooked Neapolitan-style pizza, whether in Europe or at a local, old-world-style pizzeria. Now they can create that cooking experience at home," said Georgiadis. "The Outdoor Artisan Pizza Oven brings a new level of flexibility and enjoyment to any outdoor kitchen."
To view the full Kalamazoo Outdoor Gourmet Outdoor Kitchen Design Trends report, click here. To learn more about the Kalamazoo Outdoor Artisan Pizza Oven, click here.
About Kalamazoo Outdoor Gourmet
Kalamazoo Outdoor Gourmet has been bringing gourmet lifestyles outdoors for more than 100 years and is the one-stop resource for creating the ultimate outdoor kitchen. From revolutionary hybrid grills that cook with charcoal, wood and gas, to the most powerful and energy efficient outdoor refrigeration available, Kalamazoo is the leading manufacturer in outdoor kitchens and outdoor cooking and entertaining equipment. The complete line includes grills, refrigerators, freezers, wine chillers, keg tappers, weather-tight cabinets, wok cooktops, lobster boil pits, martini bars and a countertop pizza oven.
Please visit http://www.KalamazooGourmet.com for more information or call 1.800.868.1699 to speak with an outdoor kitchen design expert.
###