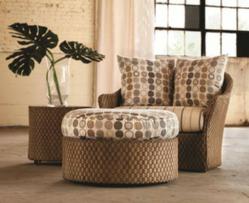 Outdoor patio chairs now often rival the quality, comfort, and style of interior furniture
Chicago, IL (PRWEB) December 07, 2011
FurnitureForPatio.com is excited to show consumers the new patio furniture for the 2012 season. As the patio furniture industry evolves, manufacturers have continually been dedicated to improve the quality, style, and comfort of patio chairs. Patio chairs are available in a variety of different styles and materials, with prices varying for every budget. Dining chairs, swivel rockers, club chairs, and swivel rocking lounge chairs are the main categories that manufacturers focus on when producing outdoor patio chairs.
Some of the most impressive patio chairs for 2012 are outdoor club chairs. Patio lounge chairs are great for creating a relaxing outdoor space that can be enjoyed by friends and family. Outdoor club chairs are often used to design an outdoor living area with other comfortable sofas and loveseats. Most outdoor lounge chairs are available with your choice of cushions and ottoman options. A major factor that affects the price of club chairs is the quality and grade of fabric that is used for the cushions.
Lloyd Flanders has been manufacturing high end wicker patio furniture for over 100 years. All of the Lloyd Flanders chairs are made in the USA with quality craftsmanship. The Elements collection is one of the most anticipated new collections that Lloyd Flanders is introducing in 2012. The Elements collection features a modern design with a low profile seat. The Elements collection is available with two options for the arms and back of the furniture. For more of a modern style the furniture is offered with stainless steel arms and backs. For a more traditional style the furniture is offered with wicker woven arms and back. All of the Elements furniture features decorative stainless steel legs that provide a modern style. The Elements collection is from the Lloyd Flanders original Lloyd loom collection and is available in a variety of standard and premium finishes. The Lloyd Flanders Elements club chair features club style deep seating cushions available in four different grades of fabrics.
Telescope Casual is another manufacturer that is joining in the surge of environmentally friendly outdoor furniture. Telescope Casual chairs have set a standard for quality and designs in the outdoor furniture industry. The Richland collection from Telescope Casual features an innovative marine grade polymer frame that is made from FDA approved recycled resins. The Richland collection features clean lines and a design that is inspired by Frank Lloyd Wright. The 2012 Richland collection is available with deep seating club cushions or a weather resistant sling option. Both of the cushions and sling collections are available in a variety of designer outdoor grade fabrics that will allow you to decorate your home in style. The Richland collection features dining chairs, dining swivel rockers, club chairs, and swivel rocking club chairs.
FurnitureForPatio.com offers a large selection of patio chairs available for different outdoor settings. Patio dining chairs are available in cast aluminum, wicker, resin, and aluminum options. Swivel rocker patio chairs are great for adding style and comfort to any patio dining set. Outdoor club chairs are great for creating an outdoor lounge area for any home. Club chairs are available with a variety of different features that include hidden rocking motions and ottomans for added comfort.
FurnitureForPatio.com is quickly becoming one of the best online stores for quality outdoor patio furniture and decorations. FurnitureForPatio.com offers patio chairs from other top patio furniture manufacturer's that include Polywood and North Cape International. FurnitureForPatio.com offers a safe and secure online shopping environment that is backed up by one million dollar guarantee. The store offers greatest flexibility in ordering furniture that is custom made to customer specifications.
###