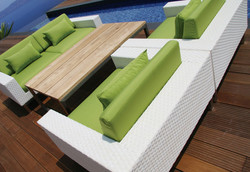 Australians can now have truly eco-friendly outdoor furniture with luxurious class
(PRWEB) December 17, 2009
MamaGreen has finally come to Australia with a brand new outdoor furniture showroom in Newtown, Sydney. Now open to the public, key elements of the Belgian designer range are on display and beckon visitors to sit on, lounge in, and experience MamaGreen.
With a focus on eco-chic design, MamaGreen begun in 2001 with two Belgian designers Erik De Winne and Vincent Cantaert. The label wasn't released until 2007, since which time it has grown to fame in the U.S. and European markets. However it hasn't had full representation in Australia until now with the opening of an exclusive retail showroom.
Curator Damian Barry promises "Australians can now have truly eco-friendly outdoor furniture with luxurious class. We all love relaxing outdoors. MamaGreen aims to enhance outdoor living without compromising on style, comfort, or the environment."
MamaGreen outdoor furniture exists only in pure minimalist shapes and natural untreated materials which become unique pieces of comfort and beauty. Luxury items include dining tables, high dining tables, dining chairs, stools & bench seats, sun loungers, lounge settings, coffee tables, planters and more.
Of equal focus to the brand is the environmentally friendly materials from which it is made, namely recycled teak wood from old construction materials, often railways and houses. Combined with high quality Stainless Steel, durable polyfibers and reliable outdoor fabrics, MamaGreen outdoor furniture is made to withstand even the harshest Australian sun.
MamaGreen addresses concerns over the validity of the worldwide 'green' advertising mantra with a no-nonsense approach to accreditation. MamaGreen recycled teak products were recently certified by the FSC (Forest Stewardship Council), a sure sign that the company is fulfilling its vision of excellence. More than a qualification on paper only, MamaGreen is a fusion of good business sense and ecological responsibility.
The new showroom is open 10am - 5pm Tues to Sat and 10am - 4pm Sundays at 32-60 Alice St, Newtown, Sydney NSW.
# # #