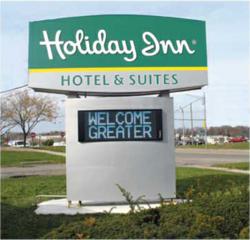 Libertyville, IL (PRWEB) November 30, 2012
LDS has added to its already significant litany of reasons to choose them as your LED sign product supplier, by including an industry best 5 year warranty for all made to order outdoor LED message center signs.
Commitment to quality is clearly best demonstrated by a company's willingness to stand behind its product. With an industry best 5 year warranty, LDS demonstrates beyond any doubt, that they have the utmost confidence in their products. In this age of "optional" extended service plans for an additional charge, and 90 day limited warranties, it is refreshing to learn that there is still a company that stands firmly behind the quality of its products. In order to offer a 5 year warranty, a manufacturer must be certain that their product is going to exceed that 5 year time span, or they will wind up taking huge losses in warranty coverage. Subsequently, customers can have the same confidence in the product, along with the knowledge that they will not incur any unexpected additional costs during the warranty period. Furthermore, with a product such as an LED sign, once you make it to the 5 year mark without any quality issues, you can be confident that the product is well made and built to last.
Outdoor LED signs are a long term investment, and any unexpected additional costs will seriously impact the expected return on investment. By combining the exclusive LDS "step by step" sign selection process and guidance with the 5 year warranty, LDS customers can rest assured that they will achieve the return on investment that they planned on.