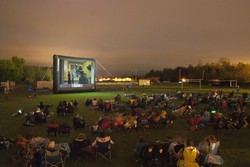 "Coming Soon ... to a Park, Campus or Backyard near you" Mike Cuzzupoli, owner
Rochester, NY (PRWEB) March 13, 2010
ZuperMovies, of Western New York, is very excited to announce they have added another, even larger, Outdoor Movie Screen to their inventory. The newest addition is a 30' x 17' screen - a massive 510 square feet of viewable surface area! It is nearly 50% larger than their 25' x 14' screen.
Why go bigger? With the trend taking hold, some venues simply require a larger screen to accommodate their growing audiences. Also, in addition to the 25' x 14', this enormous screen will also allow for greater possibilities for the modified "Drive-In" option - which for sound utilizes both a FM-transmitter and High Powered Outdoor speakers.
Specializing in providing full service Outdoor Movies complete with screen, projection and sound to a variety of customers. ZuperMovies has the largest selection of the Highest Quality Outdoor Movie screens & systems in Upstate-Central-Western New York. Colleges & Universities, Recreation & Parks, Youth Bureaus, Charity Organizations, Churches, Corporations, Elementary Schools and even Private Residential customers have all benefited from the Outdoor Movie experience.
ZuperMovies is a proud associate member of the following organizations:

National Association for Campus Activities (NACA)
Association for the Promotion of Campus Activities (APCA)
National Recreation and Parks Association (NRPA)
New York State Recreation & Parks Association (NYSRPS)
Genesee Valley Recreation & Parks Society (GVRPS)
Committed to remaining the elite choice for Outdoor Movies!
# # #