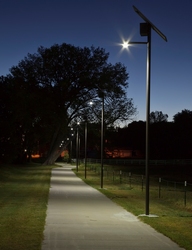 Palm City, Fla., U.S.A. (PRWEB) April 13, 2011
SOL, Inc. is pleased to announce that its GreenWay™ solar light has been named one of the "Hot 50 Green Products for 2011" by Green Builder Media. The GreenWay™ light is the reliable, modern and affordable solution for pedestrian-scale solar lighting and is aesthetic, off-grid and environmentally friendly. GreenWay™ is a total system: LED Luminaire, Solar Module, Batteries, Controller and 24' Pole. GreenWay™ is configured to specific project requirements to run all night long or save energy with dimming when full light is not required.
The GreenWay™ light offers clean, smooth lines in an aesthetic package; fashioned with a color matched components so that all parts match and blend together. As with other solar lights from SOL Inc, GreenWay requires no trenching, digging or wires, which is especially important for areas with ponds, lakes or other sensitive features and results in no power bills; enables quick start-up with all parts arriving together. GreenWay is slim making it discreet and unobtrusive in nature, is IDA approved, minimizing light trespass and light pollution; and has a luminaire that is CE and TUV certified.
Green Builder Media recognized the GreenWay™ solar LED lighting system for "ideal use on walkways and trails in small community developments. The battery pack and PV panel of the system are mounted close to the top of the pole, away from vandals. Available in sizes from 50W to 135W, all components are made for durability-from the Grade A aluminum pole to the Gel cell battery to the polycarbonate lens that protects the Ascot Luminaire (LED lamp)."
The SOL GreenWay™ light was the top-ranked system in the category Greenway Path Lighting. Green Builder Media noted the following criteria (from the DOE) to consider when selecting an LED fixture, including: "the use of high quality LEDs from manufacturers who publish reliability data; a luminaire warranty offered by the manufacturer that should be at least comparable to traditional luminaires used for the application under consideration; a luminaire photometric report, based on LM-79-08 test procedure, from an independent testing laboratory; temperature data for the LEDs when operated in the luminaire in the intended application and information about how the measured temperature relates to expected life of the system; and any test data available about longer term performance of the LED luminaire, such as DOE CALiPER testing, manufacturer in-house testing or field tests conducted by DOE, utilities or other parties."
For more information about the SOL GreenWay™ light and other products offered from SOL, Inc. please visit our Web site or call (800) 959-1329.
About SOL Inc.
SOL Inc. is the world leader in solar LED outdoor lighting solutions with over 50,000 systems installed in more than 60 countries on six continents. Since 1990, SOL has introduced innovative and cost-effective outdoor solar powered lighting systems that provide unsurpassed levels of illumination and reliability. SOL develops, manufactures and markets commercial/industrial-grade solar powered, energy efficient lighting systems for a wide range of lighting applications including area and security, street and roadways, signs, billboards, transit and shelter lighting. SOL is committed to superior design, manufacturing, and customer satisfaction. Its most recent product introduction: the 20/20 solar powered Parking Lot Light, is the most cost effective and efficient Parking Lot light on the market today.
SOL is also proud to have used all of its profits in recent years to advance solar lighting and to provide assistance to emergency challenges. Most recently, SOL fielded its own team to install lights donated by the company in Haiti, placing some of the first lights on the ground in service. These lights saved lives every day by lighting up emergency medical clinics, food distribution stations and search and rescue sights, allowing around the clock operations, which would have otherwise been curtailed at dusk.
###