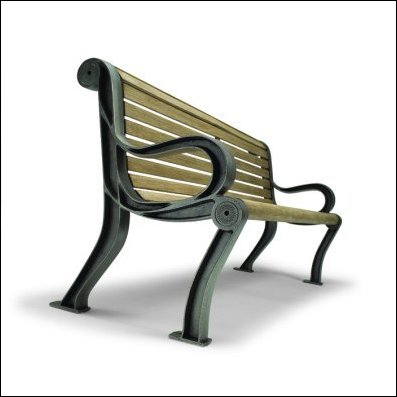 It was exciting to literally start from scratch in working with Wabash Valley to give this revolutionary line of products the personality and character it deserves
(Vocus) April 20, 2007
Fort Wayne, Ind., April 19, 2007 -- LaBov & Beyond has partnered with client Wabash Valley Manufacturing Co. on the launch of Urbanscape, its new brand of design-savvy commercial outdoor furniture and site amenities.
LaBov & Beyond and Wabash Valley Manufacturing, based in Silver Lake, Ind., teamed up to launch Urbanscape in March 2007. The brand launch team at LaBov created an approach uniquely tailored for Urbanscape and its distinctive style of durable commercial benches, planters and refuse receptacles.
Wabash Valley Manufacturing and LaBov & Beyond worked closely on virtually all internal and external aspects of the Urbanscape launch, including:

Development of the Urbanscape name, along with its logo and tagline
Comprehensive Urbanscape brand assessment
Urbanscape Web site (urbanscapefurniture.com) and other interactive components, including a pre-launch blog
Myriad of printed materials, including product catalogs and brochures
Advertising and marketing materials
"I used to think photography was just that--pictures--until I saw what the creative team at LaBov & Beyond was capable of," says Leslie Brouyette, Urbanscape's director of sales and marketing. "And LaBov's impact on the launch of Urbanscape has been felt through more than just its creative vision. The entire account and project team made sure every aspect of this launch was completely thought out, and they approached it from every angle. And we think the results speak for themselves."
The Urbanscape brand is centered around 15 uniquely designed collections that offer architects, planners and purchasing agents a myriad of options depending on the design needs and goals of a project. The distinct aesthetic styling of Urbanscape combines with its unmatched durability--thanks to an industry-leading powder-coating process and faux-wood finishes--to make an immediate impact on the commercial outdoor furniture market.
"It was exciting to literally start from scratch in working with Wabash Valley to give this revolutionary line of products the personality and character it deserves," says Chris Swymeler, LaBov & Beyond's co-creative director. "Our creative approach ensured that the philosophy behind Urbanscape would be clearly communicated to dealers and consumers."
On the Web:
To learn more about Urbanscape and its entire line of products, visit urbanscapefurniture.com. Visit Wabash Valley Manufacturing online at wabashvalley.com.
LaBov & Beyond, Inc., founded in 1981, is a marketing, communications, advertising and training company that focuses on clients with dealer/distributor networks. These clients come from a variety of industries--automotive, recreational, vehicle, trucking, consumer appliance, insurance and finance, to name a few. The company specializes in comprehensive creative development and production involving a number of disciplines working in a range of media that includes video, interactive and print. In addition to its Fort Wayne, Indiana, headquarters, LaBov & Beyond maintains a full-service office in Auburn Hills, Michigan. You can learn more about the company by visiting it online at labov.com.
###