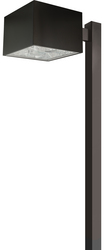 The M-Pulsive will prove to be a valued line of outdoor products
Greenville, S.C. (Vocus) July 2, 2008 –-
Spaulding Lighting, a division of Hubbell Lighting, announced it has introduced the M-Pulsive™ High Performance Area/Site Lighter to its line of architectural outdoor luminaires. Designed for the mid-specification and design/build communities, the M-Pulsive's tool-less entry and tool-less removable door offers a variety of benefits.
With the tool-less features, the M-Pulsive has a more robust design and also offers ease-of-use benefits for maintenance and installation. Additionally, there is less opportunity for contractor error during installation and maintenance.
The M-Pulsive also provides:

One-piece housing, recessed doorframe, and extruded silicone gasket for cleaner appearance of the optical assembly.
Expanded wattages (now standard down to 250 watts), reflector options – horizontal lamps now available, and offerings of mounting accessories and round pole adapters.
Full cutoff performance certified with International DarkSky Association's Fixture Seal of Approval.
According to David Hatcher, product manager for Spaulding Lighting, the M-Pulsive ships in one carton to reduce the possibility of lost components during transit or at the jobsite.
"The M-Pulsive will prove to be a valued line of outdoor products," Hatcher said. "We are excited to make this introduction to the lighting industry as it addresses the ongoing need for products that provide performance, delivery and value for mid-specification and design/build projects."
About Spaulding Lighting
Founded in 1955, Spaulding's offering for the commercial and institutional markets includes luminaires and poles for area/site lighting, walkways, automotive dealerships, and decorative roadway applications. Spaulding's architectural outdoor luminaires are designed for the mid-specification and design/build communities, addressing their need for performance, delivery, and value. Visit http://www.spaulding-ltg.com for more information.
###