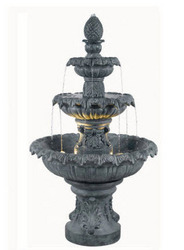 Solana Beach, CA (PRWEB) March 30, 2010
Now that warm weather is coming, Fountaincrafters.com would like to announce a series of tips to keep water fountains working properly after a long winter hiatus.
Spring is, among other things, the season of life. As the cold months end, everything seems to come alive; even home interior or exterior decorations, like water fountains.
Fountaincrafters.com, a high-quality online water fountain retailer, would like to remind its customers that spring is fountain season!
During the winter months, it is best for fountain owners to drain their basins and keep the fountain turned off all winter. This avoids any icing of the fountain motor or basin. When ice collects in the water pump, it can do irreparable damage to the fountain itself. And since these are such luxurious and costly decorations, fountain owners are understandably reluctant to risk such damage merely for the sake of enjoying their fountain during the winter months.
Spring time, then, is a boon for any fountain owner. After the last frost of winter, a water fountain can be re-installed safely, for another season of enjoyment.
"Spring is a great time for fountains, but there are a few things you should keep in mind," says Todd Harmon, founder and CEO of Fountaincrafters.com. "First, before you do anything, you will want to wash the fountain thoroughly to remove any trace residue or loose minerals. This will ensure a clean, reliable operation."
Loose minerals and other residues can wear down a fountain's water pump over time, so maintaining the cleanliness of one's fountain is of the utmost importance.
"Additionally, you should fill your fountain basin with clear, distilled water," continues Harmon, "both because distilled water is smoother on the fountain motor, and really, it just looks better."
Harmon, himself an owner of several indoor and outdoor water fountains, has accrued over nine years of experience in the fountain industry. His site, fountaincrafters.com, is often considered a very reliable source for fountain information as well as fountain products.
"Lastly," says Harmon, "it's always a good idea to pour some anti-algae solution into the basin. You can find this in any aquarium store, or a fountain specialty store. If you can't find an anti-algae solution, try a pinch of bleach." Bleach, in small doses, will prevent algae from building up in those hard-to-reach places in an average water fountain. It circulates through the motor and will eliminate any algae that may clog the pump or the fountain plumbing. Says Harmon: "It's surprising, but this is something that very few fountain owners seem to practice or even know about, but it is totally effective and one of the best things you can do for your fountain."
# # #