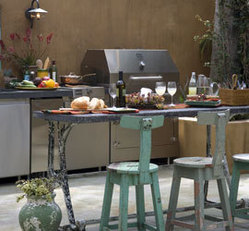 We have seen demand for outdoor kitchens growing all year
Chicago, IL (PRWEB) October 28, 2009
Home experts agree on one thing: make a plan before renovating or adding-on. As people begin to plan spring projects, a popular item under consideration is the outdoor kitchen. Kalamazoo Outdoor Gourmet, one of the most highly-respected names in outdoor kitchens, offers five planning tips that will make your new outdoor kitchen easier to live with and more enjoyable.
A recent Casual Living and HGTV report reveals that "outdoor kitchens are on the rise," with nearly 20 percent of respondents saying they would be incorporating their new grill purchase into one, and 21 percent and 24 percent of respondents in the South and Western parts of the country, respectively, saying they would be integrating a new grill into an outdoor kitchen.
"We have seen demand for outdoor kitchens growing all year," said Kalamazoo Outdoor Gourmet president Pete Georgiadis. "The outdoor kitchen is being viewed as an investment in the home and an opportunity to create more quality time with family and friends. It is crucial for an outdoor kitchen to fit a family's needs precisely."
Kalamazoo Outdoor Gourmet regularly teaches outdoor kitchen design classes to members of the American Society of Landscape Architects, the Association of Professional Landscape Designers and the National Kitchen and Bath Association, among others.
The company offers its Top 5 Tips to help you create an outdoor kitchen that is as unique as you and your family:
1. Tailored to your cooking personality
You are unique. Don't try to imitate what you saw at a friend's house. Your kitchen should reflect your specific cooking needs and style. Ask some questions that will help determine what your outdoor kitchen should look like:

Do I want my outdoor kitchen to be self-sufficient with a sink, refrigeration and ample prep area, or do I want to do most of prep-work in my indoor kitchen?
What types of outdoor cooking do I want to do?
How many months out of the year will I use it?
2. The heart of the outdoor kitchen
Choose your grill wisely. It is the heart of the outdoor kitchen and people have very different grill preferences. Some only like a gas grill, while others are set on charcoal. Kalamazoo Outdoor Gourmet offers a built-in hybrid grill, http://www.kalamazoogourmet.com/hybrid_advantage.php that combines gas, charcoal and wood, giving grillers maximum versatility.
Since grill choice has the greatest influence on satisfaction with the outdoor kitchen, budget for the grill you will enjoy the most. After choosing the grill, carefully consider its placement. Location determines how much work needs to be done in servicing it with gas lines or a ventilation hood.
3. Room to work
Think about your indoor kitchen. There are some things you love about it and some you would like to change. Apply that thinking when you are designing your outdoor kitchen.
A tip to remember: make sure the grill, sink and prep areas have enough space to work in. Give yourself enough counter space in which to work, wash, stack and serve. Each outdoor kitchen has four types of "functional zones" (cold, hot, wet and dry). The better these zones work together, the more enjoyable the experience.
4. Easy does it.
Your outdoor kitchen has to withstand the elements and daily use, so making the right materials choices can be critical. Is beauty more important? Does easy care trump all other considerations? Keep the following in mind:
Stainless steel is the ultimate in durability and easy care. It should make up the outside and inside of your grill, cabinets and refrigeration. Some manufacturers line their refrigerator with plastic which has the potential to allow for the growth of mold or mildew. Kalamazoo Outdoor Gourmet refrigeration is lined with stainless steel because it is more sanitary: http://www.kalamazoogourmet.com/appliances.php.
Customize your choice of materials for their use. One type of rock works well to support the outdoor kitchen where another works better as a counter top. Wavy materials look beautiful, but may make cooking, prep and clean-up difficult because of uneven surfaces for countertops. Choose a counter and flooring that offers absorption resistance, especially to grease. Porous, even non-porous, surfaces may benefit from a sealant for protection from the elements.
5. Fit
Your outdoor kitchen should fit harmoniously with your outdoor dining and lounging areas, even a pool area. Think of these outdoor rooms together. Consider the flow of traffic between them.
When you plan the fit, keep in mind this cardinal rule: do not isolate the grill/cook. Good grill placement creates opportunities for interaction and conversation within and between the outdoor kitchen and other areas.
To learn more tips about creating an outdoor kitchen, visit Kalamazoo Outdoor Gourmet's outdoor kitchen design checklist - http://www.kalamazoogourmet.com/outdoor_kitchen_project_checklist.php - and its outdoor kitchen design recommendations - http://www.kalamazoogourmet.com/outdoor_kitchen_design_guide.php.
About Kalamazoo Outdoor Gourmet
Kalamazoo Outdoor Gourmet has a rich heritage of bringing gourmet lifestyles outdoors and is the leading manufacturer of premium-quality outdoor kitchen equipment, including revolutionary hybrid grills that cook with charcoal, wood and gas, and the most powerful and energy efficient outdoor refrigeration available. Please visit http://www.KalamazooGourmet.com for more information or call 1.800.868.1699 to speak with an outdoor kitchen design expert.
###