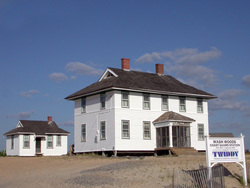 Corolla, NC (PRWEB) April 23, 2009
Doug and Sharon Twiddy have witnessed incredible change since opening Twiddy & Company Realtors in 1978. They have seen Duck grow from a sleepy coastal village with a campground, art gallery, and general store to a picturesque vacation destination offering shops, restaurants and attractions. They remember when the paved road ended at the community of Sanderling in north Duck and when the road was extended north through Corolla in 1984. They watched as Corolla became the much desired vacation destination it is today and the untamed four-wheel-drive beaches steadily increase in popularity with vacationers.
As active participants in many of these changes, Twiddy & Company remains committed to the historic preservation of the Outer Banks. To date, nine structures have been meticulously restored. The first restoration project began in 1986 when the Kill Devil Hills Lifesaving Station, circa 1878, was relocated to Historic Corolla Village. There it was carefully restored to its original form and now serves as Twiddy & Company's Corolla sales office.
Soon after the first successful restoration was complete, they looked for their next project and subsequently purchased another historic Outer Banks landmark, Wash Woods US Coast Guard Station #166, circa 1917. Located in the four-wheel-drive beaches in northern Corolla, this station was active from 1917 to 1954 and housed guardsmen who made countless brave rescues. After just one year of dedicated effort, the Wash Woods station was restored to its former glory.
Tucked beneath the shadows of the Corolla Lighthouse is Historic Corolla Village, where a community of restored homes has been repurposed into retail shops, office space and a North Carolina BBQ joint. The old Corolla Schoolhouse now has new life where children and their parents come to the one room school to learn more about the wild horses. Today these horses live in the four-wheel-drive area much as they did 400 years ago. Included in the restoration of the village are the Gray-Lewark house and outbuilding, the Parker house and outbuilding, and the Gard house. The most recent addition to the village is a beautiful garden reminiscent of those planted here so many years ago with the abundant vegetables and plants indigenous to Corolla.
The preservation and restoration of Outer Banks history has become a fundamental part of Twiddy & Company. The refurbishing of these structures has helped them realize their goal of using these wonderful monuments of a much simpler life on the Outer Banks to educate and provide insight into the rich history of this unique area. Says Sharon Twiddy, "When a building is restored, the story starts to tell itself again. The history speaks to you and so much more clearly."
About Twiddy & Company:
With over 815 vacation homes on the northern Outer Banks, Twiddy & Company has been a family owned and operated company for over 31 years. Over 80 employees in their Kitty Hawk, Duck, Corolla, and 4x4 offices support a tradition of hospitality. Twiddy & Company's extensive local knowledge helps families enjoy the perfect Outer Banks vacation.
###