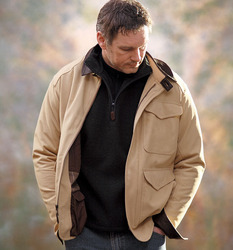 Starting December 11, 2008, any outerwear purchased through our retail site can be returned -- for almost any reason -- and we'll cover the return shipping as well as refund your original order
Sparta, WI (PRWEB) December 11, 2008
Justin Charles, manufacturer of quality outdoor clothing, has announced that, for a limited time, it is offering free return shipping on its entire collection of premium rugged casual outerwear purchased online through its website at JustinCharles.com.
"Starting December 11, 2008, any outerwear purchased through our retail site can be returned -- for almost any reason -- and we'll cover the return shipping as well as refund your original order," said Dennis Treu, Director of Operations for Justin Charles.
"This allows customers to buy our products as gifts, or for themselves, with no risk," he added.
Justin Charles has become synonymous with the highest quality merino wool clothing for outdoor enthusiasts and has recently added to its product offering 10 all new outerwear items featuring all the quality and craftsmanship that Justin Charles is known for.
The free return shipping offer is good on items purchased through December 24, 2008 and returns must be authorized by December 31. "We really want to make it easy for people to try our products," Treu said. "And coupled with free shipping on orders over $100 and our current $50 off promotions, it doesn't get much easier than this."
Justin Charles recently released to the public a limited-time promotional code that allows visitors to save $50 off their purchase of select men's outerwear items. This promotion has been extended to also run through December 24. The promotional code and details can be found at the company's website: http://www.justincharles.com.
At the center of the new outerwear line of men's outdoor clothing is the Justin Charles 3-Piece System that starts with the windproof, waterproof and completely breathable Black River Jacket. The Down Under Jacket -- with 60 grams Primaloft insulation -- layers under the Black River for a remarkably warm and weather-proof combination, and the Black River Pant completes the system featuring water shedding, wind blocking fabric with plenty of pockets.
"Our outerwear is very functional," says Joe Campisi, Director of Product Development for Justin Charles. "These garments have everything you need and nothing you don't."
About Justin Charles
Justin Charles distributes and manufactures quality outdoor gear and products to Scheels stores and various dealers across the United States and now makes its entire inventory available online at http://www.justincharles.com. Most companies make products for the masses, but along with mass production comes a loss of quality and craftsmanship. That's why Justin Charles makes products for few. They are passionate about design - not just how it looks, but how it performs, feels, and develops character over time. Not everyone can appreciate it, but those who do will cherish it for a lifetime. Every product they make is crafted with the highest standards of quality and workmanship. Excellence and quality isn't something they strive for; it's something they insist on.
For further information please contact: Dennis Treu at 608.269.9665
# # #