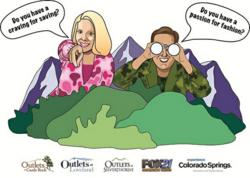 We're expecting a huge crowd...so the atmosphere will be electric. What a fun place for such a fun ambush!
Castle Rock, Loveland and Silverthorne, Colo. (PRWEB) May 16, 2011
The Outlets of Colorado's Fashion Ambush with a Colorado Twist is becoming well-known for providing entertainment, education and advice to consumers. The celebrated Cheyenne Mountain Zoo in southern Colorado, America's only mountain zoo, is the next destination for the event. One lucky visitor on Saturday, May 21 will be ambushed, unveiled, and awarded a $1,000 prize package.
Using a fun and collaborative real-life example, the Fashion Ambush teaches people how to maximize dollars and their look by shopping at the Outlets of Colorado in Castle Rock, Loveland and Silverthorne, where savings of 30 to 70 percent off of retail prices are available every day. Throughout 2011, the Outlets and Fox 21 are providing incentive to Coloradans to get out to visit Pikes Peak region attractions. Peggy Ziglin, Regional Fashion Advisor for the Outlets of Colorado, and Craig Coffey, Fox 21 Morning Reporter, are known as the Fashion Ambush Trend Team. On May 21, the duo will scout the Cheyenne Mountain Zoo for a person both deserving and game for an updated look, and will award a full fashion makeover. This fifth Fashion Ambush in the series will be documented on film and narrated by Ziglin and Coffey, then broadcast on Fox 21 for several weeks.
Ambush subjects receive a wardrobe from the Outlets' designer retail stores like Ann Taylor, CAbi, and the Saks Fifth Avenue outlet store, Off 5th. An expert haircut and style from Styles Salon, professional makeup and fashion advice on color, styles and accessories are also part of the Fashion Ambush program.
Spring is an ideal time to visit Cheyenne Mountain Zoo, and the Outlets are encouraging visitors to get there early on May 21, when the festivities begin at 9:00 AM. "It's very possible the garments and accessories in the prize package may include leopard print or zebra stripes," says Ziglin wryly. "We are so excited for this ambush event at the zoo! Of course, we have hundreds of reasons to entice guests to come out Saturday, in addition to the chance to be awarded the full Fashion Ambush makeover." The first 200 people to stop by the Outlets of Colorado prize table, which will be located in the Lodge at Moose Lake at the zoo, will receive a goodie bag and a $10 voucher for Outlets shopping. Everyone is invited to give a spin on the big prize wheel for a chance at Outlets' merchandise and gift certificates.
Cheyenne Mountain Zoo, at an elevation of 6,800 feet above sea level and more than 40 acres in size, is home to more than 800 animals representing over 150 different species. Giraffes, elephants, monkeys, penguins, hippos and even grizzly bears are featured at this unique and historic zoo, established in 1926. One perennially favorite attraction for guests is the opportunity to feed the famous giraffe herd, the most prolific reticulated giraffe herd of any zoo in the world.
Saturday, May 21 at Cheyenne Mountain Zoo will be an action-packed day. In addition to hosting their annual Run to the Shrine competitive and fun-run benefit, this is the first event the zoo has hosted in collaboration with the Outlets of Colorado. "Cheyenne Mountain Zoo is really excited to be hosting a Fashion Ambush this year," says Katie Borremans, Public Relations Manager at Cheyenne Mountain Zoo. "We're expecting a huge crowd in conjunction with Run to the Shrine, so the atmosphere will be electric. What a fun place for such a fun ambush!"
Locations earmarked for the remaining Fashion Ambushes of 2011 include the U.S. Travel Association at The Broadmoor and Springs Spree at Memorial Park. Details on dates, times and places of each monthly Ambush are updated regularly at http://www.outletsofcolorado.com. Sponsors of Fashion Ambush with a Colorado Twist include the Colorado Springs Convention & Visitor Bureau, FOX 21 KXRM and Styles Salon.
Outlets of Colorado Media Contact:
Peggy Ziglin, Regional Public Relations and Tourism Director
Outlets of Colorado (Castle Rock, Loveland, Silverthorne)
970-227-9585
peggy(at)outletsofcolorado(dot)com
or
Kate Collins
Write Brain West, Inc.
970-274-0899
kate(at)writebrainwest(dot)com
About the Outlets of Colorado
The Outlets of Colorado host over eleven million shoppers annually, and offer savings of 30 to 70 percent off retail every day. The three centers include the Outlets at Castle Rock, Loveland and Silverthorne. The 300 name brand outlets at the three centers include Levi's Outlet, Nike, Bose Outlet, J. Crew, Chico's, Le Creuset, Tommy Hilfiger, Lucky Brand Jeans, Brooks Brothers, Off 5th, Aeropostale, Ann Taylor Factory Store, Kenneth Cole, Pearl Izumi and more. http://www.outletsofcolorado.com
About the Cheyenne Mountain Zoo
Perched at 6,800 feet, Cheyenne Mountain Zoo, America's only mountain zoo, connects people with wildlife and wild places through experiences that inspire action. Cheyenne Mountain Zoo is open 365 days a year and is home to more than 800 animals, 30 of which are endangered species. Cheyenne Mountain Zoo is one of just nine zoos accredited by the Association of Zoos and Aquariums operating without tax support. Cheyenne Mountain Zoo depends on admissions, membership dues, and donations for funding. http://www.cmzoo.org
Resource Link
Colorado Springs Convention & Visitor Bureau http://www.visitcos.com/
# # #