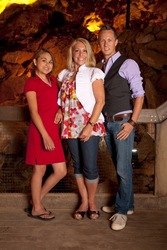 This is such a win-win for the Outlets and the models. I have so much fun getting acquainted with the winners over the year, and seeing their self-assuredness grow
Castle Rock, Loveland and Silverthorne, CO (Vocus) June 24, 2010
Outlets of Colorado discovered 22 talented, energetic, and photogenic individuals to be part of its 2010 advertising campaigns and promotions. Live tryouts with hundreds of participants were held in May 2010 at each of the three Colorado Outlet shopping centers: Outlets at Castle Rock, Outlets at Loveland and Outlets at Silverthorne. The event was sponsored by the popular Colorado vacation destination of Glenwood Springs and benefited the American Heart Association (AMA). Winners received a trip to Glenwood Springs and a prize package.
"This is such a win-win for the Outlets and the models. I have so much fun getting acquainted with the winners over the year, and seeing their self-assuredness grow," said Peggy Ziglin, Regional Fashion Advisor for Outlets of Colorado. "Over the past four years of doing the Strike A Pose promotion I've seen everything from a confidence boost that inspires better self esteem and schoolwork, to the actual launch of modeling careers as some of these talents go on to be signed with major modeling agencies. It's proven to be such a positive influence in these young people's lives, and it brings me personal happiness to be a part of that."
There were five student models and two adult models-- who depict mothers and fathers-- selected from each of the three Outlets' competitions in 2010. One honorary American Heart Association model was also selected:
2010 Strike A Pose Model Search Winners for the Outlets at Castle Rock:
Yazzie Gabler-Alanzo: Age 10, Malley Drive Elementary
Haley Smith: Age 13, Highlands Ranch High School
Rachel Eakins: Age 14, Ranch View High School
Brenna Lorraine Anhder: Age 15,Pine Creek High School
Matthew Gardner:: Age 23,Graduated Colorado Christian University
Alhambro Gordon: Age 39
Shannon Neary: Age 42
2010 Strike A Pose Model Search Winners for the Outlets at Silverthorne:
Hailie Rupp: Age 5, Glacier Peak Elementary
Zaqueo Carchi Easterly: Age 8, Silverthorne Elementary
McCabe Kasch: Age 11, Dillon Valley Elementary
Serina Kidd: Age 13, Wyoming Virtual Academy
Kayla Strahan: Age 15, Battle Mountain High
Tim Ventrella: Age 40
Patricia Shultheis: Age 40
2010 Strike A Pose Model Search Winners for the Outlets at Loveland:
Cheyenne Torres: Age 15, Silver Creek High School
Korynn Minkel: Age 5, Frontier Academy
Aiden Stewart : Age 6, Home School
Haylie Patrick: Age 13, Blevins Middle School
Apolonia Hansen: Age 17, Valley High School
Erik Johnson: Age 18, University of Northern CO
Kortny Voegeli : Age 36
Calvin Robinson: Age 48
Each of the 22 winners received a trip for their family guests and themselves to Glenwood Springs, Colorado for a vacation and photo shoot June 8-10, 2010. The vacation package perks and photo shoot sites included local attractions the Glenwood Hot Springs Pool, Glenwood Caverns Adventure Park, Glenwood Canyon Zipline Adventures and Canyon Bikes-- bundled with accommodations at the newly opened Residence Inn by Marriott. The photos that were captured of the models enjoying the attractions in Glenwood Springs and wearing the clothing brands available at the Outlets will be featured in the Back to School Advertising campaigns for summer 2010, and in various promotions throughout the year for the Outlets of Colorado.
In addition to a Glenwood Springs vacation package, contest winners also received a model card suitable for a portfolio, a life-size standing photographic sign of the model group, a $150 gift card from the Outlets of Colorado, a Tommy Hilfiger Tote Bag and a Tommy Hilfiger Red Tommy Tee that was a featured wardrobe item for the 2010 group shot taken in honor and support of the American Heart Association.
One additional photo shoot at local ski area Sunlight Mountain Resort will take place when the snow flies in Glenwood Springs in December 2010. Several of the Strike A Pose model contest winners and their families will enjoy skiing and riding at Sunlight and accommodations at the Sunlight Mountain Inn.
The Strike A Pose models will appear on numerous live television fashion segments throughout the year in Colorado and Wyoming. While on camera, they will be modeling clothing from Guess, Off 5th, OshKosh B'Gosh, Nike, Rue 21 and more of the latest brands and fashions for Back to School from all three Outlets of Colorado centers. A life-size standing photographic sign will be displayed at all of the Outlet centers and at the Glenwood Springs' sponsoring attractions.
With each annual Strike A Pose promotion, The American Heart Association awards an honorary model to the Strike A Pose cast. The 2010 model is Cheyenne Jessie Lazette Torres, a 15-year-old student at Silver Creek High School and lifelong resident of Longmont, Colorado. Cheyenne was diagnosed with restrictive cardiomyopathy in August of 2009 during a regular checkup. Restrictive cardiomyopathy is a form of cardiomyopathy in which the heart walls are rigid and the heart is restricted from stretching and filling with blood properly. It is a very serious health problem that could one day require a heart transplant. Cheyenne loves the outdoors and her avocations include hiking, bike riding, camping, and swimming. Suffering from lifelong asthma, Cheyenne has continued to participate in athletic and leisure activities in spite of her illness. She takes on the new challenge of living with cardiomyopathy with the same practical and positive outlook. "I try to just get past my disability and live my life as a normal teenage girl in Colorado," says Torres, "I'm very excited to be named the Outlets of Colorado American Heart Association model for 2010 and all that is ahead in the coming year."
Outlets of Colorado Contacts:
Peggy Ziglin
Outlets of Colorado (Castle Rock, Loveland, Silverthorne)
970-232-9491
peggy (at) outletsofcolorado (dot) com
About Outlets of Colorado
The Outlets of Colorado host over one million shoppers annually, and offer savings of 30% to 70% off retail every day. There are three Colorado Outlet centers and they include the Outlets at Castle Rock, Loveland and Silverthorne. Outlets at Castle Rock is located south of Denver between Colorado Springs and Denver, Outlets at Loveland is located north of Denver between Ft. Collins and Denver and Outlets of Silverthorne is located west of Denver in the midst of renowned ski resorts Keystone, Copper Mountain and Breckenridge. The thee centers feature over 300 name brand outlets including Levi's Outlet, Banana Republic, Nike, Gymboree, Bose Outlet, J. Crew, Chico's, Le Creuset, Tommy Hilfiger, Lucky Brand Jeans, Brooks Brothers, Off 5th, Eddie Bauer, Timberland, Nine West, Carter's Children's Wear, Aeropostale, Ann Taylor Factory Store, Kenneth Cole, Pearl Izumi and more. http://www.outletsofcolorado.com
About Glenwood Springs
Glenwood Springs is located between Aspen and Vail, 160 miles west of Denver or 90 miles east of Grand Junction on Interstate 70 off Exit 116. Many cities provide direct air service into Vail/Eagle County Regional Airport 30 miles to the east and Aspen Airport 40 miles to the south. An online press kit and downloadable photos are available at http://www.visitglenwood.com
About Craig Realty Group
Craig Realty Group is a shopping center development firm founded by Steven L. Craig and is based in Newport Beach, California. The firm specializes in upscale factory outlet centers. The company currently owns and operates Outlets at Anthem in Phoenix, Arizona; Cabazon Outlets located near Palm Springs, California; Citadel Outlets in Los Angeles, California; Outlets at Conroe located near Houston, Texas; Outlets at Hillsboro south of Dallas/Fort Worth; Outlets at Castle Rock located south of Denver, Colorado; Outlets at Loveland located north of Denver, Colorado; Outlets at Silverthorne located west of Denver, Colorado; Outlets at Vicksburg in Vicksburg, Mississippi and Woodburn Company Stores located near Portland, Oregon. Craig Realty Group also manages Lake Elsinore Outlets located in Lake Elsinore, California. The company is currently developing The Plaza at San Clemente in San Clemente, California, a 650,000 square foot mixed-use project, Sussex Commons Lifestyle Outlets in Frankford Township, New Jersey and Fashion Outlets at Traverse Mountain in Lehi, Utah.. Craig previously developed Carlsbad Company Stores, which was sold to an east coast developer, and Franciacorta Outlet Village in Brescia, Italy. Craig was also responsible for the development of Desert Hills Premium Outlets in Cabazon, one of the largest and most successful manufacturer outlet centers in the world and was instrumental in developing Camarillo Premium Outlets in Camarillo, California. For more information about the company, visit http://www.craigrealtygroup.com.
###