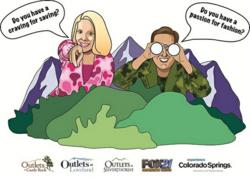 It can truly change a person's life, and being a part of that is immensely gratifying.
Castle Rock, Loveland and Silverthorne, Colorado (Vocus/PRWEB) March 28, 2011
The Outlets of Colorado continues its mission to help Coloradans find style and maximize budget, saving 30 to 70 percent off retail every day at more than 300 retail stores in Castle Rock, Loveland and Silverthorne. Now, they also persuade shoppers to venture out to nearby attractions in the scenic and diverse state, through the Fashion Ambush with a Colorado Twist.
Going on location for the third Fashion Ambush event of 2011, hostess Peggy Ziglin, Outlets of Colorado Regional Fashion Advisor, and Craig Coffey, Morning Reporter on Fox 21 Television, will hit the world famous Royal Gorge Bridge and Park. On Sunday, April 3, one lucky visitor to the park will be identified for a new hairstyle, wardrobe, makeup and fashion advice-- essentially a head to toe makeover, valued at more than $1,000. Chronicled on film before, during and after the full fashion makeover, the entertaining and informative three minute Fashion Ambush segment will be broadcast on Fox 21 for several weeks.
"We are so excited to find our next 'ambushee' for the full pampering treatment at the Royal Gorge," says Ziglin. "The process is so fun and rewarding for both the makeover recipient, and for the 'Trend Team'-- Craig and I. It can truly change a person's life, and being a part of that is immensely gratifying." At the Royal Gorge Bridge and Park in southern Colorado near Canon City, one astonished visitor will be identified for the full fashion treatment. As an enticement for spring visitors to head to the Royal Gorge on April 3 at 11:00 AM for the fun, the Outlets of Colorado are giving away 20 passes to the park in advance, each a $25 value, through its Outlets of Colorado Facebook page. The first 200 people to the Outlets of Colorado booth at the park will receive a goodie bag with a $10 Outlets gift card voucher and other treats. Every visitor will be invited to give the Outlets' famed prize wheel a spin.
The Royal Gorge Bridge and Park, about an hour and 15 minutes from Colorado Springs, has one of the highest suspension bridges in the world: 956 feet deck height, spanning a quarter-mile across the unforgettable Royal Gorge and Arkansas River. The heights and views are awe-inspiring at this historic Colorado attraction, constructed in 1929. Activities at Royal Gorge Bridge and Park include the Incline Railway, on a track built at a 45 degree angle that scales the Gorge walls from top to bottom, the aerial tram, the Plaza Theatre with its educational video, horseback riding around the rim of the Gorge, and the Wapiti Western Wildlife Park.
The Fashion Ambush with a Colorado Twist takes place monthly in 2011. The February Fashion Ambush recipient, Elizabeth Sikuka, received her beauty transformation at the Colorado Springs Airport. An employee at the airport, Sikuka was identified by her supervisor through a nomination process. The nomination cited Elizabeth as a deserving hard-working mother of three who provides for her family with two jobs, while her husband serves in the military in Afghanistan. Sikuka's winnings included a wardrobe from the Outlets at Castle Rock's Lane Bryant store, professional makeup, and a new hairstyle of her lush red locks from Styles Salon of Colorado Springs.
Locations earmarked for future 2011 Fashion Ambushes include the Cave of the Winds on Saturday, April 30, Cheyenne Mountain Zoo, Pikes Peak Cog Railway, U.S. Travel Association at The Broadmoor, and Springs Spree at Memorial Park. Details on dates, times and places of each monthly Ambush are updated regularly at http://www.outletsofcolorado.com. Sponsors of Fashion Ambush with a Colorado Twist include the Colorado Springs Convention & Visitor Bureau, FOX 21 KXRM and Styles Salon.
Outlets of Colorado Media Contact:
Peggy Ziglin, Regional Public Relations and Tourism Director
Outlets of Colorado (Castle Rock, Loveland, Silverthorne)
970-227-9585
peggy (at) outletsofcolorado (dot) com
or
Kate Collins
Write Brain West, Inc.
970-274-0899
kate (at) writebrainwest (dot) com
About Outlets of Colorado
The Outlets of Colorado host over eleven million shoppers annually, and offer savings of 30 to 70 percent off retail every day. The three centers include the Outlets at Castle Rock, Loveland and Silverthorne. The 300 name brand outlets at the three centers include Levi's Outlet, Nike, Bose Outlet, J. Crew, Chico's, Le Creuset, Tommy Hilfiger, Lucky Brand Jeans, Brooks Brothers, Off 5th, Aeropostale, Ann Taylor Factory Store, Kenneth Cole, Pearl Izumi and more. http://www.outletsofcolorado.com
Resource Link
http://www.royalgorgebridge.com/
# # #