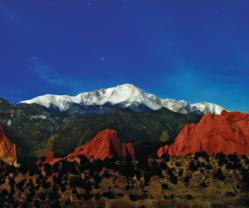 The entire production promises to be spectacular.
Colorado Springs, CO (PRWEB) June 02, 2011
With one dog, two and a half days, three photographers, dozens of logistics, 23 youth and adult models, roughly 100 wardrobe combinations and thousands of photographs, the Outlets of Colorado will execute its sixth annual Strike a Pose photo shoot this June in Colorado Springs. The Outlets are hosting a resort-based photo and video shoot for its new line up of 2011 amateur models, the recent winners of the Strike a Pose modeling contest. On June 8, 9 and 10, the models will showcase fashions from designer and brand name retailers, and will model at three picturesque locations. As a part of their extensive prize package, the models and their families will enjoy a resort vacation stay at Cheyenne Mountain Resort, a four-diamond AAA rated full service lodge; they will be photographed here and at two nearby attractions: the Cheyenne Mountain Zoo and the Garden of the Gods Visitor and Nature Center.
The Strike a Pose contest is in its sixth year, and for the first time, scenic Colorado Springs and the Pikes Peak Region will be the backdrop for the promotional photo and video shoots. Another new element is the Strike a Pose dog. "Once again, we have tremendous talent represented in both our youth and adult models, our American Heart Association representative, Samantha, and our first-ever Strike a Pose dog, Maggie." says Peggy Ziglin, Regional Public Relations and Tourism Director for the Outlets of Colorado. "Cheyenne Mountain Resort and Colorado Springs have never looked more green and inviting. The entire production promises to be spectacular."
The Strike a Pose Event Itinerary: June 8, 9 and 10
On Wednesday, June 8 at 10:00 AM, the models will begin their adventure with a welcome brunch at Cheyenne Mountain Resort's signature Mountain View Restaurant. For the duration of the event, they'll be outfitted in fashions from some of the Outlets of Colorado's 300 retail stores, all of which offer savings of 30 to 70 percent off regular retail prices. Featured brands include Pearl Izumi, Banana Republic, Rue 21, Ann Taylor, Oshkosh B'Gosh, Carter's, Guess, Izod, Nike, Under Armour, Calvin Klein and Tommy Hilfiger.
On Wednesday, the models will be photographed at the Cheyenne Mountain Resort golf course, in the studio at the Dove Conference Room, and at the vast Aquatic Center at the property, with its indoor and outdoor pools, a splash pad and fountain, and a lake with bumper, paddle, and sailboats. The day will continue with more shots around the resort, and conclude with an outdoor terrace fire pit shoot, where roasted marshmallows will be enjoyed at twilight and the moment captured on film. For the evening shoot, the models will be attired in red Tommy Hilfiger wardrobes, in honor of the American Heart Association, the event's charitable partner. Heath Forrest Olson, National Brand Director for Tommy Hilfiger, will fit and style the wardrobes for the shots. Each model will be awarded his or her outfit to keep as a gift from Tommy Hilfiger, the major clothing brand sponsor of Strike a Pose which will be featured in several of the shoots. In addition, each model and sponsor will be given a life-size 'standee' photograph as a keepsake, which will feature images from the shoot of the models wearing their red Hilfiger outfits.
On Thursday, June 9, the models and their guests will enjoy a hearty breakfast buffet at Cheyenne Mountain Resort then embark for the Garden of the Gods Visitor and Nature Center and the surrounding 1,350 acre park. The human models, and their canine companion Maggie, will be photographed amid the 300 million year old rock formations, with famous names like Kissing Camels and Balanced Rock. In the afternoon, the entourage will move to the Cheyenne Mountain Zoo-- the world's only mountain zoo-- where the giraffe and tiger exhibits will be the backdrop for photos. The day finishes with a barbecue at the Cheyenne Mountain Resort pool deck, where models will relax and visit with invited sponsors and dignitaries.
On Friday, June 10, the morning will be dedicated to additional on site shots at Cheyenne Mountain Resort. The entire production will wrap up at noon on Friday.
The 2011 Strike a Pose models
Outlets at Castle Rock models include:
Nicolina Bowling, Age 7
Parker Bryant, Age 20
Gregory Falicia, Age 50
Melissa Kraft, Age 34
Kelli Mossbrucker, Age 20
Allonah Podvin, Age 16
Samantha Remington, Age 19, Honorary American Heart Association model representative
Quiana Torres, Age 14
The Outlets at Loveland models include:
Erica Erickson, Age 38
Katja Godebu, Age 14
Charles Karl, Age 39
McKenzie Lindgren, Age 8
Maggie, Golden Retriever, Age 4
Kayla Myers, Age 19
Jordan Williams, Age 15
The Outlets at Silverthorne models include:
Jennifer Batts, Age 29
Holden Behr, Age 6
Ashlyn Eisenman, Age 5
Sophie Imamura, Age 11
Ryan Jackson, Age 31
Hunter Shively, Age 16
Nadirah Sinkler, Age 17
In addition to the three-day, two-night vacation at Cheyenne Mountain Resort, models win a $150 gift card for shopping at the Outlets, a professionally designed modeling portfolio card with professional photographs, a Tommy Hilfiger tote bag, on-air appearances on select television segments for the period of a year, and appearances in print and online Outlets of Colorado media and advertising. Fashion and lifestyle photographers Marcus Edwards of Four Feathers Photography, and Christy Grosboll of Sugar Mill Productions will be the photographers for Strike a Pose, working with an assistant photographer. Brian Howe from Pure Energy Events will be the videographer.
Sponsors of Strike a Pose include the Colorado Springs Convention & Visitors Bureau, Pikes Peak Country Attractions Association and Cheyenne Mountain Resort. Additional details are available at http://www.outletsofcolorado.com.
Outlets of Colorado Media Contact:
Peggy Ziglin, Regional Public Relations and Tourism Director
Outlets of Colorado (Castle Rock, Loveland, Silverthorne)
970-227-9585
peggy (at) outletsofcolorado (dot) com
or
Chelsy Murphy
Colorado Springs Convention & Visitors Bureau
719-685-7639
chelsy (at) visitCOS (dot) com
About Outlets of Colorado
The Outlets of Colorado host over eleven million shoppers annually, and offer savings of 30 to 70 percent off retail every day. The three centers are the Outlets at Castle Rock, Loveland and Silverthorne and they include 300 name brand retailers like Levi's Outlet, Nike, Bose Outlet, J. Crew, Chico's, Le Creuset, Tommy Hilfiger, Lucky Brand Jeans, Brooks Brothers, Off 5th, Aeropostale, Ann Taylor Factory Store, Kenneth Cole, Pearl Izumi and more. http://www.outletsofcolorado.com
About Cheyenne Mountain Resort
A premier four season Colorado Springs destination, Cheyenne Mountain Resort features 316 finely appointed guest rooms and suites. Amenities include an 18-hole championship Pete Dye-designed golf course; five swimming pools; tennis and racquetball courts; a health and fitness center; aquatics center and a 35-acre recreation lake. Known for its breathtaking mountain views, exceptional accommodations, fine dining, myriad activities and comprehensive conference facilities, Cheyenne Mountain Resort is designated as a AAA Four Diamond property. 800-428-8886 or http://www.cheyennemountain.com
About The Colorado Springs Convention & Visitors Bureau
The Colorado Springs Convention & Visitors Bureau is the leading marketing organization for group travel and tourism to Colorado Springs and the Pikes Peak Region. The organization is dedicated to a strong national and international presence so that tourism is a primary contributor to a thriving local economy. http://www.visitcos.com/
About Tommy Hilfiger
As one of the world's leading premium lifestyle brands, Tommy Hilfiger delivers superior styling, quality and value to consumers worldwide. The brand celebrates the essence of Classic American Cool and provides a refreshing twist to classic, American fashion. The Tommy Hilfiger flag logo is recognized around the world as the symbol for high quality, quintessential American style with a cool twist. Products include men's, women's and children's apparel, and accessories that reflect the classic American cool brand mission. http://usa.tommy.com
Resource Links:
Garden of the Gods Visitor & Nature Center: http://www.gardenofgods.com
Cheyenne Mountain Zoo: http://www.cmzoo.org/
###