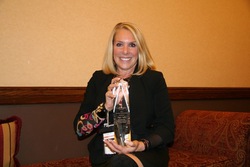 The success of the Outlets of Colorado's Strike A Pose Model Search was a direct result of Peggy's vision and dedication
Loveland, CO (Vocus) October 6, 2010
Peggy Ziglin, Public Relations and Tourism Director for the Outlets of Colorado in Castle Rock, Silverthorne and Loveland, earned the Outstanding Individual Contribution to Tourism award for her major and lasting contributions to Colorado tourism, one of the state's largest industries with $8.6 billion in attributable annual revenues.
She was awarded top honors at the Governor's 2010 Colorado Tourism Conference in Snowmass Village on Thursday, September 30, chosen by a selection committee for the leadership, vision and inspiration she provides to her organization and numerous Colorado communities and attractions, which benefit from her ingenuity and results-driven programming. "The success of the Outlets of Colorado's Strike A Pose Model Search was a direct result of Peggy's vision and dedication," said Don Marostica, director of the Office of Economic Development and International Trade and interim director for the Colorado Tourism Office. "Peggy is a great example of an individual who not only propels her organization forward, but is also an ambassador for Colorado tourism. She is very deserving of this prestigious award."
Initially nominated for the Outstanding Marketing Program award for her work with the Strike A Pose Model Search contest, the selection panel ultimately deemed that Ziglin was more appropriate for the Individual award for her tireless and focused work-- a predisposition clearly supported by numerous voluntary letters of praise and recognition from state tourism and fashion industry leaders.
One letter, from Regional Director of Fashion Group International of Denver Scottie Iverson, succinctly sums up the observations and admiration of many in her letter to the judges in support of Ziglin: "Peggy brings talent and is grace under fire as she travels the state in her 'office on wheels' giving inspiration, sharing style and an abundance of ideas to promote tourism in Colorado, the state that she loves, and especially at the three centers she represents. She understands the big picture, forms alliances and treasured partnerships and follows through – not just fulfilling the agreed-upon, but over delivering in every aspect of the project with tremendous generosity and heart. To work with Peggy is to be treated like royalty."
Typical of Ziglin to share the spotlight, she said, "It is such an honor to receive this incredible Governor's award. I'm so excited, but also want to share it with many others who have helped put our Strike A Pose Model Search on the map. It shows that by working together we have been able to grow this program to benefit Colorado. My thanks go out to all."
Strike A Pose is an amateur model search for youth, men and women. The models are selected annually in a contest which attracts 200-500 contenders at each of the Outlet centers. The model wins, as a part of his or her prize package, an on-location photo shoot at a chosen Colorado partner destination and is photographed at signature attractions in clothing from the stores at the Outlets of Colorado.
From 2007-2010, the partner destination for the photo shoot was Glenwood Springs, Colorado, and attractions and lodges for the photo shoots included the Glenwood Hot Springs Pool, Glenwood Caverns Adventure Park, Glenwood Canyon Zipline Adventures, Glenwood Canyon and Canyon Bikes rental bicycles, Rock Gardens Rafting, Sunlight Mountain Resort, historic Hotel Colorado, and Residence Inn by Marriott.
Additional Colorado destination and attraction partners in Strike A Pose media and promotion included Rio Grande Scenic Railroad, Blackhawk/Central City, Pikes Peak Cog Railway Route, Royal Gorge Bridge & Park/Canon City, Allegiant Air, Amtrak, and Loveland Ski Area. Smart Car was a major product partner that participated in a car giveaway contest in 2009.
Photographs of the models at the destination are used in virtually all promotion of the Outlets of Colorado for one year: in brochure collateral, messaging, promotion, print advertising and dozens of television media appearances. More than $1.1 million in media coverage for the Strike A Pose event, the Outlets and their brands, the chosen destination and the destination attractions is leveraged in extensive multi-media and editorial coverage for 12 months.
The three Outlets of Colorado centers host 11 million shoppers per year as a tourism destination in their own right, and actively promote their Colorado destination partners to all shoppers at their sales centers and visitor information desks at each center with posters, life-sized standing displays, brochure racks, drawings, giveaways and visitor information center staff.
Outlets of Colorado Media Contact:
Peggy Ziglin
Outlets of Colorado (Castle Rock, Loveland, Silverthorne)
970-232-9491
peggy (at) outletsofcolorado (dot) com
or
Kate Collins
Resort Trends, Inc.- media communications for the travel and tourism industry
970-274-0899
kate (at) resorttrends (dot) com
About Outlets of Colorado
The Outlets of Colorado host over 11 million shoppers annually, and offer savings of 30 to 70 percent off retail every day. There are three Colorado Outlet centers and they include the Outlets at Castle Rock, Loveland and Silverthorne. Outlets at Castle Rock is located south of Denver between Colorado Springs and Denver, Outlets at Loveland is located north of Denver between Fort Collins and Denver and Outlets of Silverthorne is located west of Denver in the midst of renowned ski resorts Keystone, Copper Mountain and Breckenridge. The three centers feature over 300 name brand outlets including Levi's Outlet, Banana Republic, Nike, Gymboree, Bose Outlet, J. Crew, Chico's, Le Creuset, Tommy Hilfiger, Lucky Brand Jeans, Brooks Brothers, Off 5th, Eddie Bauer, Timberland, Nine West, Carter's Children's Wear, Aeropostale, Ann Taylor Factory Store, Kenneth Cole, Pearl Izumi and more. http://www.outletsofcolorado.com
About Craig Realty Group
Craig Realty Group is a shopping center development firm founded by Steven L. Craig and is based in Newport Beach, California. The firm specializes in upscale factory outlet centers. The company currently owns and operates Outlets at Anthem in Phoenix, Arizona; Cabazon Outlets located near Palm Springs, California; Citadel Outlets in Los Angeles, California; Outlets at Conroe located near Houston, Texas; Outlets at Hillsboro south of Dallas/Fort Worth; Outlets at Castle Rock located south of Denver, Colorado; Outlets at Loveland located north of Denver, Colorado; Outlets at Silverthorne located west of Denver, Colorado; Outlets at Vicksburg in Vicksburg, Mississippi and Woodburn Company Stores located near Portland, Oregon. Craig Realty Group also manages Lake Elsinore Outlets located in Lake Elsinore, California. The company is currently developing The Plaza at San Clemente in San Clemente, California, a 650,000 square foot mixed-use project, Sussex Commons Lifestyle Outlets in Frankford Township, New Jersey and Fashion Outlets at Traverse Mountain in Lehi, Utah. Craig previously developed Carlsbad Company Stores, which was sold to an east coast developer, and Franciacorta Outlet Village in Brescia, Italy. Craig was also responsible for the development of Desert Hills Premium Outlets in Cabazon, one of the largest and most successful manufacturer outlet centers in the world and was instrumental in developing Camarillo Premium Outlets in Camarillo, California. For more information about the company, visit http://www.craigrealtygroup.com.
###