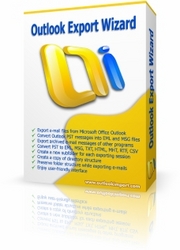 (PRWEB) May 12, 2010
Outlookimport.com gladly announces the release of Outlook Export Wizard, the latest addition to its line of award-winning import/export tools for Microsoft Outlook. The program solves a broad range of issues usually associated with large-scale conversion of PST files to other data formats and enables users to selectively export PST file content to their hard drives for further conversion, processing or publishing online. Besides being a flexible conversion tool, Outlook Export Wizard can be efficiently used as a comprehensive backup tool for Outlook PST files.
Outlook Export Wizard is a remarkably fast and intelligent piece of software that greatly facilitates the process of saving messages, journal items, sticky notes, tasks, contacts, appointments and other objects found in MS Outlook to the hard drive preserving the original structure of Outlook folders. The software supports a great number of output formats, including EML, MSG, RTF, HTML, VCF (vCard), TXT, MHT, VCS (vCalendar), iCS (iCalendar) and TNEF. Thanks to the automatic format detection capability, users don't need to manually set associations between source and destination data and configure every aspect of the export process – the program will do it all automatically. The software can export data both from the current Outlook profile and standalone PST files. Exported items can be saved as MSG files or converted to files of corresponding formats.
Outlook Export Wizard has a simple wizard-based interface that enables users to export PST data in 3 steps only: 1) selection of the source file (Outlook profile or a separate file) and the destination folder; 2) analysis and preview; 3) data extraction.
"When it comes to extracting data from PST files, manual exporting just doesn't seem to work at all in many cases," notes Atie Uhan, one of the program developers. "The problem gets worse when you need to export lots of items or back up your entire message archive to transfer it to a different email client. That's where Outlook Export Wizard comes into play and saves tons of your time. It's one of the fastest solutions on the market and I think it's a great tool to have at all times."
Some of the key functionalities that Outlook Export Wizard offers are:

Export of Outlook *.msg email messages to "The Bat!" and other RFC822-based email clients
Fast and easy recreation of the structure of Outlook subfolders on the hard drive or other storage devices
Extraction of Outlook calendar entries, contacts, email messages, notes and other items into corresponding folders
Filtering of emails by several key parameters, such as attachments and message size
Ability to extract Outlook items and save them to files of the MSG format (PST to MSG), which facilitates the backup process.
Ability to save Outlook items in the Microsoft Word RTF format (PST to RTF) for further editing and publishing
Conversion of Outlook contacts to the Virtual Card format (PST to VCF), which greatly simplifies the migration of Outlook contacts to Lotus Notes.
Ability to save email messages as HTML files (PST to HTML) for subsequent publishing on the web
Conversion of Outlook mailboxes into the MHT format (PST to MHT) preserving HTML formatting, embedded graphics and other objects that can be used for presentations or one way archiving
Export from Microsoft Outlook profiles and standalone PST files of Unicode and ANSI formats in Outlook 97, 98, 2000, 2003, 2007 and 2010.
Outlook Export Wizard is an excellent choice for anyone looking for a straightforward and hassle-free method of converting Outlook PST data to other formats and backing up the content of an entire PST file on the hard drive. Great speed, support of multiple formats and a modest price are the key characteristics of this outstanding conversion tool.
Pricing and Availability
A personal license for Outlook Export Wizard can be purchased for as low as $19.95, while Enterprise licenses start from just $39.95. Each license Aomes with 1-3 years of guaranteed support that also covers program updates. Users also have an option of purchasing the Unlimited support plan for a slightly higher price to get lifetime technical support and updates. The Site license (priced at $495.95) can be used by as many as 100 employees of a single company and comes with an extended download warranty. Detailed information about Outlook Export Wizard, an online help section and a free downloadable trial version are available at OutlookImport.Com.
The software can be purchased from Plimus.com, the official reseller of EMLtoPST.Com products. Post, fax, phone orders, as well as major credit cards (VISA, MasterCard, Amex and Discover) are accepted.
About OutlookImport.Com
OutlookImport.Com is a group of software engineers offering a broad range of development services and turnkey solutions in a number of areas. Employing several certified professionals with years of experience in the IT industry, the company is committed to delivering user-friendly, reliable and highly-focused software tools that efficiently solve users' problems within a minimal time frame. The lead developer of the company, Atie Uhan, currently holds a position of a Senior Software Engineer in a large software company and is a recognized expert in the area of software compatibility and data conversion. He has contributed to the creation of multiple import, export and data exchange solutions for applications of various types. He is also the author of many articles published at OutlookImport.Com.
Product page link: http://www.outlookimport.com/outlookimportcom-releases-outlook-export-wizard/
Download link: http://outlookimport.com/downloads/oewsetup.exe
Purchase page: http://www.outlookimport.com/purchase/outlook-export-wizard/
Company website: http://www.outlookimport.com/
# # #