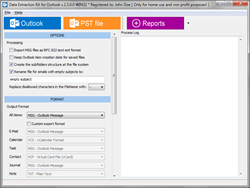 San Diego, CA (PRWEB) October 15, 2014
GlexSoft, a software development company offering a broad range of data conversion and migration solutions, is proud to present the latest member of its family of products – Data Extraction Kit for Outlook. This compact and intuitive tool offers the best time-tested features of its predecessors and complements them with a number of new ones, including a completely redesigned interface and unique email forensic analysis functions.
The new product is intended for professionals and regular users who need a tool for quick and flexible conversion of the contents of Outlook PST storage files into other formats – either for importing into alternative applications, archiving, data migration or other purposes. The new product has all the features conveniently presented in a single main program window for ease of access and navigation. Data Extraction Kit for Outlook works with messages and attachments, contacts, notes, calendar items and other standard objects and converts them into a number of compatible formats, including MSG, RTF, TXT, EML, TNEF, HTML, MHT, VCF, VCS and ICS. The user can configure various aspects of the conversion process: from the replacement of unsupported characters in message subjects and preservation of the original folder structure to keeping the objects' creation date and time intact. In order to facilitate the selection of the necessary items, the authors of the program implemented several filters that enable users to select files created before or after a particular date, containing attachments or without them, or being smaller than the specified threshold.
Apart from rich data export and conversion capabilities, the product also enables administrators, investigators and other professionals generate highly detailed reports on the contents of Outlook data files. These reports are generated in the CSV format and can be opened in MS Excel for further analysis and processing. Once the necessary email or object is found, it can be quickly located in the source, extracted into any supported format and presented to a court of corresponding authority/agency. Reports include over 20 most important message characteristics that can be used for narrowing down the scope of search and help locate the necessary evidence.
"The product that we've just released is unique in many ways. It's the only product offering such flexibility in this price category and definitely the only product combining such data conversion power with forensic analysis features," commented Lex Gordon, Lead Developer at GlexSoft. "We are excited to see the first reviews and are ready to implement new useful features following our customers' requests."
The trial version of the product can be downloaded free of charge from the manufacturer's website.