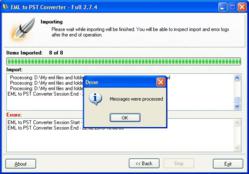 Markham, ON (PRWEB) July 26, 2012
Although the two Microsoft programs (Outlook and Outlook Express) have similar names and somewhat similar functions, data cannot be moved from one program to the other without specialized software. Microsoft Outlook Express, included with Windows XP and still used by millions, stores messages and other information in. DBX and .EML format. Microsoft Outlook, the standard for corporate email worldwide and one of the most powerful personal information managers available, stores its emails and data in PST format.
That is why Outlook Express to Outlook Converter was developed by outlookexpresstooutlook.com team. The application is a quick and accurate tool that converts Outlook Express files into Outlook files. This means that users can keep their messages, contacts, calendars, and other information, even after switching to Outlook. Compared to other options, Outlook Express to Outlook Converter (click to download) is much more "universal": it supports migration of email attachments, different encodings, file sizes, and preserves the directory structure as well. Many programs simply take all of the Outlook Express messages and put them into "one big folder". Not so with Outlook Express to Outlook Converter – email folder organization is preserved, so that user organization is never lost.
The application supports more than just Outlook Express: the power behind the converter can turn EML to PST or MSG, MSG to EML, and more. No experience is required to use Outlook Express to Outlook Converter. The wizard interface walks the user through the process, step by step, selecting the source, destination, and any special options. No secret commands and no "gotcha"s! Emails, contacts and other data are always kept safe from any risk of damage. The converter is suitable for home users and businesses as well; businesses in particular can benefit from the enormous savings in time and money that Outlook Express to Outlook Converter offers. Migration is never fun, but thanks to Outlook Express to Outlook Converter, upgrading does not require any tinkering nor losing any user data.
Official Site: http://www.outlookexpresstooutlook.com/
Download URL: http://www.outlookexpresstooutlook.com/download/
Instruction: http://www.outlookexpresstooutlook.com/help/