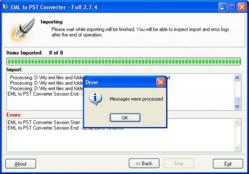 Aptos, CA (PRWEB) September 26, 2012
While Outlook Express and standard Outlook share many features, they are not the same. There is no built-in functionality that allows users to convert files form Express to Outlook. Many people still use Windows XP, which uses Outlook Express. Standard Microsoft Outlook is the norm for the business world. So how does one reconcile their Express files and make them accessible with Outlook? It's a question of converting EML files (used by Express) into PST files (used by Outlook) and before now, it was not an easy task.
Luckily, Outlook Express to Outlook Converter ( download ) was invented to make life a little easier. The tool is quick and safe to use – it allows users to keep their messages and email files intact inside Microsoft Outlook so that no data is lost and business can continue as usual. The converter not only exports emails, but email attachments and other email data files, preserving the original organization so that the user does not have to hunt around for their data in one big, disorganized folder, which is how other converters are set up.
The converter can convert EML to PST, EML to MSG, and MSG to EML. No advanced computer experienced is required to operate the tool. It is an intuitive wizard that walks the user through a step by step process to select the source files, preview the files to be converted, and then finally converting the files to the desired file type. Migration might not be the most enjoyable task in a user's experience, but with Outlook Express to Outlook Converter, files do not get lost, corrupted, and the migration happens rather painlessly.
Official site http://www.outlookexpresstooutlook.com/