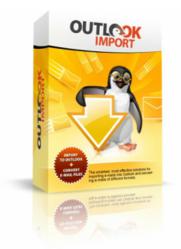 Price temporary reduced!
Mracham, ON (PRWEB) May 08, 2012
Microsoft Outlook is used frequently by individuals and businesses, making it increasingly important that files and data be transferable from one email client or another to Outlook. Message formats can be very different, so this transfer or migration can be very difficult and complicated. Luckily, the Outlook Import Wizard software exists to transfer messages, attachments, contacts, tasks and calendar items into PST files, which are multi-purpose containers that can be used to import data in and out of Outlook.
Outlook Import Wizard is a smart and simple tool that was created to convert email messages in MSG and EML formats into PST formats, which is the standard Microsoft Outlook format. The wizard makes it easy to migrate files from the Bat!, Thunderbird, Netscape Mail, MacMail, Windows Mail, and more because of the TNEF files. The latest version of Outlook Import Wizard tool includes the ability to take a set of message folders and turn them into multiple PST files, batch mode support, the importing of contacts from VCF format, and more. Once they are converted, the files can be moved, deleted, or filed like regular messages, making organization a snap. The user is permitted to tweak the organization of the files during conversion, making life easier and organization more of a reality.
Outlook Import Wizard is user-friendly and simple. The wizard-based interface is available in a number of languages, and anyone with a basic knowledge of computers can run it. This saves money and time. It is so convenient to import email archives into Outlook – it is a three step process that offers flexibility and ease to the user.
Software site: http://www.outlookimport.com