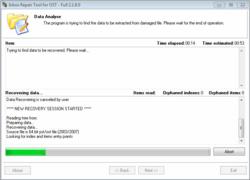 Temporary price cut!
Markham, ON (PRWEB) March 20, 2012
Emails, contacts, attachments, and other information are stored as PST files in Microsoft Outlook. As a user's email profile grows, so do the file sizes, and the bigger the files, the more those files are at risk for corruption. Months and even years of important data are stored in PST files, so when trying to recover them time is very important. The very format and size of PST files make them difficult to save with a normal recovery tool. Inbox Repair Tool http://www.outlook-pst.com can handle it, and recovers emails, contacts, calendar items, and other data quickly, and one does not need to be a computer expert to use the tool.
Inbox Recovery Tool for Outlook uses an intelligent algorithm to understand the very makeup of a PST file, so using multiple passes it can scan each component of the PST file, including the headers, signatures, and more, and allows the user to preview the items prior to reconstruction. Any data that is recoverable is saved into a separate file, and the new PST file created can be imported back into Microsoft Outlook – saving your data with no problem, saving you from the panic and worry of lost data.
Outlook Inbox Recovery Tool ( read more ) employs a three-step process, asking the right questions to get the data restored as quickly as possible. It can restore files from the 32-bit or 64-bit version of Microsoft Outlook, and it can act as the only tool a user needs to repair their corrupted data, so that their meticulously saved and filed emails can once again be useful and readable.
Software Site: http://www.outlook-pst.com/